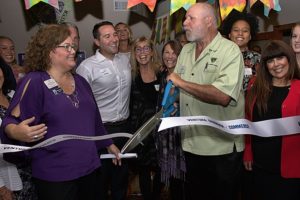 On Thursday, Nov.9 Kids & Families Together and the Ventura Chamber of Commerce celebrated the opening of their new center with a ribbon cutting and open house at 864 Santa Clara St.
In addition to the headquarters for Kids & Families Together operations the new center houses children's therapy rooms, training facilities and room to grow.
The celebration included tours of the center, wine and appetizers and musical entertainment.
Volunteer Beth Morris stated "The new location for Kids & Families Together is sunny, warm, and welcoming, just like the amazing people who work there".
Ventura Councilmember Matt LaVere and Ventura Community Development Director Jeff Lambert were there celebrating the opening.
Kids & Families Together is a not-for-profit support, education and counseling resource center that provides services for individuals and families in foster care, kinship care and adoption, for the preservation of families and the physical, emotional and mental health of children. Kids & Families Together provides services through its collaboration with the Ventura County Human Services Agency and Ventura Behavioral Health Agency as well as other family serving organizations throughout Ventura County.
For more information about how to get involved with Kids & Families Together or utilize their services please contact David Friedlander, President/CEO & Co-founder (818) 643-1446 x 100 or email him at david@kidsandfamilies.org.