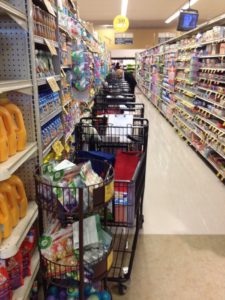 by Tony Miller, President of Shop Ahoy
Every Tuesday morning around 9:00 am in Von's at Victoria and Telegraph you'll see the result of their calls. As many as 25 shopping carts filled with groceries lined up waiting to be delivered to seniors.
SHOP AHOY is a non-profit volunteer program in Ventura County which has one mission, the weekly shopping and delivery of groceries to home bound seniors. It's a non-profit program whose members are all volunteers, each of whom gives their time to serving men and women who are home bound. The mission of SHOP AHOY is to assist its clients to remain in their homes independently.
The program serves five cities; Camarillo, Oxnard, Simi Valley, Thousand Oaks and Ventura. Each week a volunteer calls his or her senior and records their order, and it's not only groceries. Greeting cards, fresh flowers, stamps, deli and over the counter medicine regularly fill the carts.
"I gave up driving at age 90. Shop Ahoy makes a big difference in my life" says a 92 year old Ventura resident.
Cheryl Hollandsworth is the site leader of the Ventura group. She's been serving the seniors for over 12 years. "Each person has different tastes and favorites and it's rewarding to see the looks on their faces when they get their favorite ice cream or their special cookies. It's a labor of love" says Cheryl.
Many volunteers take out the trash, take them to the doctors, sometimes help them clean house. Changing light bulbs, oiling door hinges and opening bottle caps are roles the volunteers fill. Many visit during the week just to talk; after all, it's not uncommon that homebound people don't get many visitors.
Volunteers wear different hats. Some are home bound themselves so they call their people each week. Others shop the orders and others make weekly deliveries, although most shop and deliver.
Age isn't a criterion for volunteering. Several retired teachers enjoy the shopping and delivering to clients which creates special friendships that continue. Several high school students volunteer during the summer.
Seniors come to know SHOP AHOY by word-of-mouth referrals from other seniors and organizations.
"We also get a lot of referrals from visiting nurses. The more people hear about us the more people we can serve," said Tony Miller, President of SHOP AHOY.
Members of the Board of Directors are also volunteers; they're shoppers/delivers and they speak to other service organizations to get the word out.
Shop Ahoy depends almost solely on donations and grants although the economy has reduced grant availability. shopahoy.org