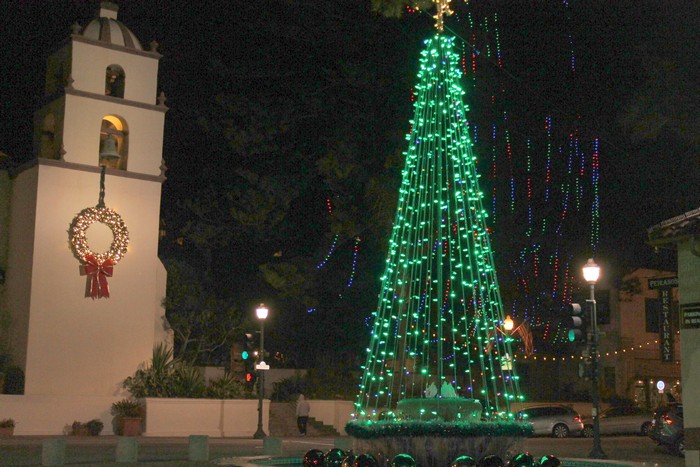 by  Fr. Tom Elewaut, Pastor Mission San Buenaventura
Just in time for the annual tree lighting ceremony in Downtown Ventura, Mission San Buenaventura is displaying a new wreath (nine foot in diameter) with clear large and mini LED lights and a jumbo red bow! Weighing 100 lbs. the energy efficient lit wreath is made in two sections and will be visible on Main Street in the Downtown District and from Figueroa Plaza to the US 101 freeway.  The wreath was designed and manufactured by the Holly Workshop division of the Flag Factory in Carpinteria.
The new wreath is a symbol of hope, joy, and eternity besides being lovely to look at…we can all benefit from that juxtaposition the dark news of humanity we hear so much about.  The old 5' wreath was in disrepair.  Funded by private donations, the much larger wreath reminds all citizens and visitors that the Mission is a focal point of the city.
For many Christians, Advent wreaths, embedded in rich meaning, symbolism and tradition, celebrate the month of December leading up to Christmas Day. Candles on Advent wreaths readily demonstrate the strong contrast between darkness and light.
It is believed that the holly wreath, with its sharp, pointed leaves, first represented the crown of thorns worn by Christ on the cross, the little red berries symbolizing drops of blood. Later wreaths were formed from a variety of pines and firs, with evergreens embodying eternal life.