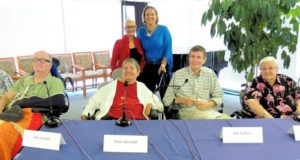 In the upcoming "Battle of the Ages" – otherwise known as the Knowledge Bowl – four senior citizens will place their lifelong experience against a team of teen students weaned on the world-wide web.
Now in its seventh year, the Jeopardy-like contest is even at three matches apiece, so the stakes are high. The public is invited to this free popular event at 2:30 p.m. Monday, June 6 at Aegis Living of Ventura, an assisted living and memory care facility at 4964 Telegraph Rd.
"We're all here to celebrate education, and the audience has as much fun as the contestants," promised founder Suz Montgomery, who created the Bowl as a way to foster interaction between the ages.
It is sponsored by her employer, the Ventura Adult and Continuing Education division (VACE) of the Ventura Unified School District, and will be later televised by CAPSTV Media,
The senior team is made up of former educators: Mary Ayers, Don Haskell, Clint Jacobs and Ethel Johnduff. The students – all from Buena High School – are Ali Hemmatyar, Quinn Maloney, Brenna Neri, Anna Rajala, Samantha Scampone and Brady Yarbrough.
"All four of these students are on the school's 'official' Knowledge Bowl team (during inter-school competitions run by the AAUW), and all are high-performing AP students with a wide range of challenging classes on their schedules," said Buena Librarian Joel Levin, who is also coaching the students.
Levin is also coming up with the questions in five categories: Literature, Current Events, History, Geography and Potpourri.
"The Knowledge Bowl has become one of the most anticipated events in the community, with both sides excited to show how much they know," Montgomery said. "Is it lifelong experience or the well-educated younger students who know the most?  Come and find out."
During the past events, the audience is an active participant, often whispering answers to each other, cheering and supporting both sides. However, they are cautioned not to blurt out answers in their excitement.