New beautiful, state-of-the-art library in Saticoy.
On September 26 the Ventura County Library system held a Grand Opening celebration for the new Saticoy Library located at 1292 Los Angeles Ave. right off of Wells Dr. This is the location of the old Saticoy Hardware building which had remained vacant for many years.
The Saticoy Library has activities five days a week, special events every week, a teen group, and an involved and enthusiastic staff. The grand opening events were planned by Library Tech Jane Middleton.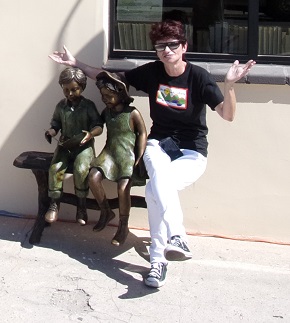 The large, beautiful, state-of-the-art library has 12 public computers, new furniture, all-new faster internet, a children's' section and long counters by the front windows with plugs-ins for personal devices.
Among those present for the ribbon cutting were Ventura County Library Director Jackie Griffin, Ventura Deputy Mayor Erik Nasarenko, Library Deputy Director Sara Roberts watching Joshua Canales prepare to cut the ribbon. Ventura County Supervisor Steve Bennett was also present but didn't make the photo.
The Library can be reached at 671-5148.
Photo by Daniel Ingram