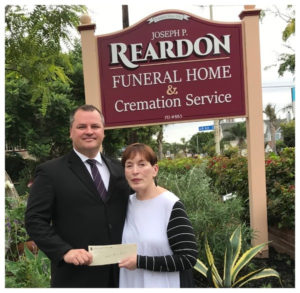 Ventura's Joseph P. Reardon Funeral Home & Cremation Service has secured a $10,000 grant from the Crescent Memorial Foundation to benefit the non-profit Ventura Music Festival.
Says Michael Boyko, president of the funeral home:  "We are honored to present this grant to the Ventura Music Festival, a great organization that not only benefits our community with a wonderful summer music festival, but also with concerts and wonderful programs year-round, many of them free and for music-audiences of all ages – from elementary school children to seniors and everyone in between."
Michael Boyko and the Joseph P. Reardon Funeral Home & Cremation Service of Ventura are proud to participate in this grant program with the Crescent Memorial, a national funeral service supply company dedicated to supporting Funeral Directors in their service to families.
Since 1994, the mission of the Ventura Music Festival has been to bring world-class music to the community, build audience-Festival and audience-artist relationships, and enhance the joy of music through diverse education offerings for all ages. For more information, please visit www.venturamusicfestival.org.