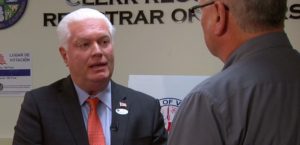 by Elizabeth Rodeno
CAPS Media has been supporting Ventura's county clerk and registrar to inform you of the upcoming elections. The latest award-winning Ventura County News Channel's production explains the voting process. Go to their website: www.vcnewschannel.com for helpful information. Your mail-in ballot should be in your post box. Don't forget you may need extra postage to mail it.
CAPS Media's website is one of your go to places for non-partisan election information. Go to the video tab on our webpage where we have over 30 videos including statements from all the candidates running for local office and coverage of local forums and ballot propositions.
ECTV, the program created by the El Camino High School students have prepared their own public service announcement entitled Why We Should Vote? You can find it airing on CAPS Channel 6 & 15. It was highly praised by the VUSD at a recent board meeting. They are currently producing a bi-lingual talk show featuring Spanish speaking community members, politicians and artists as guests.
We continue airing the Thomas Fire Stories project every Friday at 6pm with back to back episodes on CAPS Channel 6. CAPS Radio – KPPQ-LP is broadcasting them regularly on 104.1fm and on the myTuner app available on your phone and smart speaker. UC Santa Barbara's radio station KCSB FM has included our Thomas Fire Stories project in their broadcast schedule every Thursday at 5:30pm. They broadcast at 91.1 fm if you are traveling North.
The Ventura Police Department has been spending time in our studio interviewing community heroes for their upcoming Heroes Among Us Gala. As devoted storytellers, we are thrilled to get to share in yet more stories of the heroic community members who went above and beyond the call of duty during the past tumultuous and tragic year.
We send out a big congratulation to Sheldon Brown and his Ventura Breeze for 11 great years of community engagement. The articles, photos and commentary are vital to our community. We are proud to part of the local media voice along with the Breeze. Congratulations.
Community Member engagement is CAPS Media Center mission. We are here to support members in creating an informed and educated community through electronic media. Both our television channels and radio are venues to share stories and ideas with the community. Become a member, take the Orientation, enroll in classes and create powerful and entertaining media to share with us.
Orientation classes for media makers are held the first Thursday of every month, radio training is held the 4th Wednesday of every month. Go to capsmedia.org for more information.