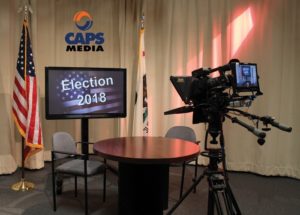 by Elizabeth Rodeno
In preparation for the elections in November CAPS Media will be producing a series of programs and forums. The events will feature the voices and positions of the candidates for City Council, Ventura Unified School District and the Ventura Community College District Trustee candidates through our long running Video Voter program. CAPS will offer candidates the chance to share their campaign platforms with the community. The comprehensive voter information program is an important part of our mission to create an informed and educated community through electronic media. Go the Schedules tab on the CAPSMedia.org website for dates and times of all our election programs.
Don't forget the dates of Vote By Mail are October 8-October 30. There are Ballot drop boxes at County Government Center, City Clerk offices during their regular business hours, Clerk-Recorder East County Office at the Civic Arts Plaza, or any polling place on Election Day. Ventura County has texting program where citizens can register or confirm voter registration by texting "Ventura County" to 2VOTE (28683).
"Voting is one of the most sacred privileges we have as Americans. To be able to cast our vote in a peaceful and safe environment makes us the envy of the world."  Mark Lunn, Clerk-Recorder, County of Ventura
While you are watching Channel 6 stay tuned to catch other member programming featuring travel, art, science, and more. Both channel 6 & 15 also stream online 24/7. In addition, go to the video tab to watch episodes of our Thomas Fire Story Project.
The award winning ECTV program has begun. Phil Taggart has a great group of students, new and old, to mentor. They are getting up to speed in the studio, writing scripts and prepping guests for another year of enthusiastic storytelling. CAPS Radio, otherwise known as KPPQ-LP held its quarterly community meeting with a great group of members and friends. Anyone interested in making great radio and sharing it worldwide? KPPQ is now available on the MyTuner app as well as streaming on capsmedia.org. There is something for everyone. Last week we held a very productive advanced session for our veteran broadcasters. Training sessions are the fourth Wednesday and Thursday of each month.
Learn to produce your own television program. Get orientation and training class information on CAPSMedia.org. Sign up for our mailing list and like us on social media. Get engaged, become a member of CAPS Media Center and share your story.