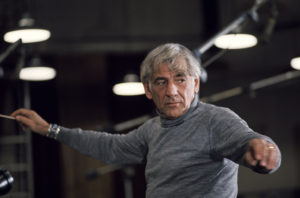 Each year, the Ventura Music Festival fills venues across the city with top-tier music for two weekends of multi-genre music, dance performances and world-class culture. This time, the festival is getting a head start on the summer with a special multi-media presentation at the Museum of Ventura County to celebrate the life and works of Leonard Bernstein during what would have been the 100th year of his life.
Presented by the Janet & Mark L. Goldenson Artistic Director of the Ventura Music Festival Nuvi Mehta, the presentation will feature excerpts of Bernstein's music alongside an in-depth lecture delving into the immeasurable impact his life's work had on the musical landscape, both during his life and extending far beyond it into the present day. Having both learned from and played with Bernstein himself, Mehta is in a unique position to impart knowledge on the legacy of this iconic figure in musical history. "Bernstein's ability to unfold an entire musical journey in a single gesture astonished us – astonished everyone – and made him beloved from L.A. to N.Y. to Berlin, Vienna, Amsterdam, Tokyo and everywhere music is loved," says Mehta.
A true visionary who defied convention at every turn, Bernstein's politics and music both revolved around the idea of inclusivity. His work steadfastly insisted on bringing all types of music together – including American jazz, pop and esoteric genres, in a time where American music wasn't even on the radar of the world's musical stage. "Bernstein changed the way American music was perceived," Mehta continues. "What goes on in a concert hall [today] is influenced by Leonard Bernstein." In a very real sense, his work became symbolic of America and of his time, as he dedicated himself to connecting dots between the musical, the social and the political, and spent much of his later years passing his ethos and knowledge on to the next generation of young musicians.
The presentation will run for approximately 90 minutes and will take place on Sunday, June 24, at the Museum of Ventura County, 100 East Main St. Refreshments will be served at 3:00 PM, and the program will begin at 4:00 PM. Tickets are $20 each and can be purchased at http://venturamusicfestival.org/bernstein-at-100/.
As an extended celebration of 100 Years of Bernstein, the celebrated Akropolis Reed Quintet will be playing a Bernstein tribute during their live set during the Ventura Music Festival in July. For dates, the full lineup and ticketing info, please visit www.venturamusicfestival.org. The 24th annual Ventura Music Festival will take place on July 12-15 and July 20-22, 2018 at various locations across Ventura and Oxnard. For a full list of locations, please visit www.venturamusicfestival.org/schedule.
For more information, please visit www.venturamusicfestival.org.