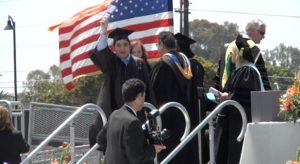 CAPS Media extends congratulations to graduates throughout Ventura. CAPS crews recorded and streamed the Ventura College ceremony on May 18, and record and broadcast commencement ceremonies for El Camino High School on June 8 and Foothill Technical High School on June 14.
CAPS Media's Thomas Fire Stories project premiered on Friday, June 1 with a harrowing first-person story by Jake and Jenni Dilbeck who live in Wheeler Canyon. On December 4, the first night of the fire, the Dilbecks evacuated from their home. Once the family was safe Jake, an LA County firefighter, returned to battle the fire and try to save his home and the homes of his neighborhood. As a result, Jake was trapped in the canyon by the swirling fire, dense smoke, and a tragic auto fatality that blocked his escape.
Every Friday evening at 6pm firefighters, first responders and members of the public share first-person experiences from the Thomas Fire. Each 20-30 minute story premieres on CAPS TV Channel 6 and CAPS Radio 104.1FM.
The monthly schedule of Thomas Fire Stories is posted on capsmedia.org and includes Chief Dustin Gardner, Ventura County Fire on June 8, Bonnie and Rich Atmore, Sexton Canyon residents, on June 15, Chief Chad Cook, Ventura County Fire on June 22, Chief John Spykerman, Ventura County Fire on June 29, and Clark Tulberg, Thomas Aquinas College on July 6.
The Thomas Fire Stories are produced by CAPS Media in collaboration with the Museum of Ventura County and are supported by photos and videos contributed by the public, firefighters and news agencies. The remarkable and inspirational personal accounts repeat throughout the week and can be viewed at any time online at capsmedia.org/videos.
The Museum of Ventura County is archiving all of the Thomas Fire Stories media material and will include selected portions of the interviews in a special exhibit in the fall to coincide with the one-year anniversary of the Thomas Fire. Portions of the individual Thomas Fire Story interviews will be included in a comprehensive documentary film produced by CAPS Media also slated to premiere in December.
Summer is here, and the CAPS Media's Digital Storytelling Summer Program kicks off on June 26 at the CAPS Media Center. Designed for students ages 10-15 the program provides young videographers and storytellers with hands-on training with cameras, audio, and editing equipment utilizing the complete resources of the CAPS Media Center. Trained by the CAPS Media professional staff, the young crew members also learn teamwork and production skills needed to produce commercials, documentaries, news reporting, comedy shows and more. No prior experience is required to enjoy the three-day activity packed sessions on June 26 – 28, July 10 – 12 and July 17 – 19. The program runs from 9:30am to 1:30pm each day, Tuesday thru Thursday. The program fee includes use of professional gear, hands-on instruction, snacks, a t-shirt and a CAPS Media membership for a year. To learn more about the Digital Storytelling program or to sign up call 805.658.0500 or go to www.capsmedia.org/events.
CAPS Media's mission is to create an engaged and informed community through participation in electronic media. To learn more about CAPS Media, the public is invited and encouraged to go to capsmedia.org or call 805-658-0500.