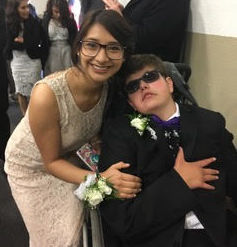 A "Night to Remember" lived up to its name on May 19. The event is a special prom sponsored by the Mission Church in Ventura for special teens and young adults at the Ventura Fairgrounds.
My name is Kelli McLaughlin and I recently moved to Ventura from San Francisco. My son Zane has physical and cognitive delays and uses a wheelchair, so it is often hard for us to attend and participate in events like this. The event was incredibly well planned for accessibility and fun, from beginning to end.
The number of volunteers was inspiring, as was all of the effort and care that was taken to create such a fun and inclusive event. It was a tender and heartfelt night full of fun and joy.
Preparing and planning for this event was no easy task. Every guest was fitted with a tux or an evening gown prior to the night. Each guest was also paired with a host, if he or she did not already have a date. Also, hair and make-up was provided by local talented hair and make-up artists.
My son was fitted for a tux at Mission Tux on Telegraph – and the person who did the fitting was gracious and professional. Many organizations and unsung heroes worked behind the scenes to make this special night a possibility.
The night of the event, my son got dressed and was already excited by the fact that he was wearing a tux with a violet bow tie. Then we went to pick up his host/date, Zane was smitten.
Zane and his date were then swept away into a big white stretch limo and dropped off at the red carpet where many hundreds of people had gathered to greet the guests. This part was particularly touching and heartfelt as the group hollered and cheered for each couple as they arrived. If a particular guest was sensitive to noise, the music would stop and the crowd waved their hands in the air, a sign used for clapping in American Sign Language (ASL).
Throughout the night Zane would gaze upon his date with a warm and bright smile, certain that he was the luckiest boy alive.
I am feeling so grateful today for being able to participate in such a wonderfully inspiring and fun event – thank you Ventura.
If you'd like to be part of this magical evening next year, please look into volunteering.
MissionChurch
www.missionentura.com 626-8850
Kelli McLaughlin is a new account executive for the Ventura Breeze. We welcome her to the Breeze and Ventura. You should be meeting her soon.