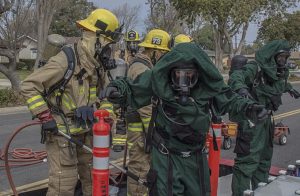 by Richard Lieberman
On a Monday morning at Naval Base Ventura County an exercise was held, Force protection was the intended goal with a realistic scenario based on a semi-trailer truck's driver not cooperating with U.S. Navy personnel to an entry gate at the base.
Immediately "final denial barriers" were deployed. The barriers are gates that protrude from the ground effectively making forward progress nearly impossible. Deployment of the gates signaled the start of an exercise scenario in which navy personnel and first responders investigated a substance leak from the vehicle. Close by Navy and civilian personnel became ill, displaying symptoms such as nausea, dizziness, difficulty breathing among other health complaints.
A hazardous-materials response was initiated to discover just what the substance was and to treat those affected and to protect the base and its personnel.
Base commanding officer, Captain Chris Janke, said the operation combines "pieces and parts" of real-world events. This annual exercise has in past years covered scenarios like earthquakes, terrorist attacks and plane crashes.
"Security is our top priority for the people that live inside here and to safeguard the missions that are inside the base. "Janke said. Janke added "the exercises play a crucial role in testing not only the responses of individual units from the base, but also include outside agencies like Ventura County Fire, Ventura City Fire, Oxnard City Fire hazardous materials units. "
As the scenario progressed personnel from the U.S. Army in full containment suits and gear, full face gas masks, air tanks and, thick dark color hazmat suits, removed toxic materials from the truck and proceeded to a decontamination area that was already set-up by federal firefighters.
For several hours fire, police, and other military groups coordinated with each other responding to the simulated emergency.
Roads at the base near the entrance gate were blocked off for several hours as the exercise continued. Two federal firefighters in full hazmat gear approached the truck which was parked at the entrance to the base and examined what was believed to be hazardous materials. Some base personnel were required to take detours as the exercise ran its course.
Cooperating fire personnel set up what looked like a very low shallow pool and proceeded to simulate decontamination on two participants by hosing them down and scrubbing outer clothing.
Janke added "Although we have a great team here and this equipment, it's not near the capability that the county has." Janke also said, "the exercises play a crucial role in testing not only the responses of individual units from the base, such as the Federal Fire Department but also coordination with outside agencies such as the Ventura County Fire Department." "We have to be prepared for this type of thing 24-hours a day" He also added "the exercise was an important event due to the infrequency of opportunities."