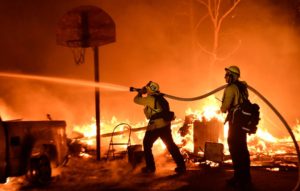 CAPS Media is launching the Thomas Fire Stories Project on Thursday, February 15 with an initial set of interviews recorded at the CAPS Media Center. Everyone in the community impacted by the fire is invited to share their story and contribute to the archive of our common experience. The individual interviews will be conducted by CAPS Media producers in our studio and expected to last 15-20 minutes for each. Members of the public, first responders, officials and others are invited to record their story, first person, in their own words, with assistance and expertise from the CAPS Media staff.
The Thomas Fire is a once-in-a-lifetime tragedy. CAPS Media is collaborating with the Ventura City Fire and Police, Ventura County Fire and Sheriff, the Museum of Ventura County, other community agencies on the Thomas Fire Stories Project. The project will feature personal stories of individuals and families whose lives were dramatically changed the night of December 4th and include extraordinary accounts of heroism, sacrifice, tragedy and healing.
Thursday, February 15th is the first date in a series of video and audio recording sessions to be scheduled at the CAPS Media Studio for the Thomas Fire Stories Project. To schedule a time to record your story please contact CAPS Media 658.0500.
CAPS Media has also set up an easy process for the public to share stories, photos and video for the historic project. Go to the CAPS Media website homepage- capsmedia.org, on the Thomas Fires Stories image click on the Read More arrow in the lower right corner. The page presents more details on the project and step-by-step instructions on how to contribute photos, video and other media. If you have a story to tell or a tribute or thank you to share, send an email to thomasfirestories@capsmedia.org or call the CAPS Media Center at 658.0500.
The Ventura Police Department is working with CAPS Media every week producing community updates. Hosted by Ashley Bautista, VPD Civic Engagement Specialist, and VPD officers, the series includes public awareness tips, weekly crime statistics, and other information vital to the community. The reports are posted on Ventura City and Police websites and social media, and are broadcast and stream on CAPS Channel 6 & 15, capsmedia.org, and on CAPS Radio KPPQ 104.5 FM.
CAPS Media's mission is to create an engaged and informed community through participation in electronic media. Join our community of enthusiastic engaged member/producers. To find out more come to orientation on the first Thursday of every month and learn how to become a member of CAPS. Member classes include HD videography/camera class held on the 2nd Thursday, Final Cut postproduction editing class on the 3rd Thursday, and CAPS Radio (KPPQ, FM 104.1) two-part classes on the 4th week. In every training session Member/Producers receive hands-on instruction in videography, video editing, radio production and more. All classes begin at 6pm at the CAPS Media Center, 65 Day Road. Once trained, member/producers may check out CAPS Media's video cameras, tripods, audio gear and other production equipment to record their story and then book postproduction editing suites to craft the story they want to tell.