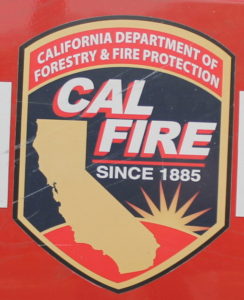 by Staci Brown
Cal Fire is the acronym for the "California Department of Forestry and Fire Protection"
They provide fire protection and stewardship for over 31 million acres of California's privately-owned wildlands. They also provide various emergency services in 36 of the State's 58 counties via contracts with local governments. Because of the Department's size and major incident management experience, it is often asked to assist or take the lead in disasters. The department has an extensive fleet of vehicles consisting of over 2,800 vehicles which includes 383 front line fire engines, 237 crew buses to transport Conservation Camp crews to projects and fires and 58 bulldozers. Additionally they have large mobile command centers and mobile kitchen units.
The prevention of large, damaging fires remains a priority for Cal Fire. The department's Fire Prevention Program consists of multiple activities including wildland pre-fire engineering, vegetation management, fire planning, and education and law enforcement. Common projects for Cal Fire include fire break construction and other fire fuel reduction activities that lessen the risk of wildfire to communities. This may include brush clearance around communities, and along roadways and evacuation routes.
Other important activities they are involved with include defensible space inspections, emergency evacuation planning, fire prevention education, fire hazard severity mapping, implementation of the State Fire Plan, fire-related law enforcement activities such as investigations to determine fire cause and origin as well as arson cases, and support for local government fire safe planning.
Additionally, they answer the call for many other emergencies. A Cal Fire engine and crew can be dispatched to the scene of various disasters including; an auto accident, a drowning accident, hazardous material spills, swift water rescues, search and rescue missions, civil disturbances, train wrecks, floods, earthquakes residential structure fires, heart attacks, lost hikers, floods and earthquakes. The department's firefighters, fire engines and aircraft respond to an annual average of more than 5,600 wildland fires, and 350,000 emergencies.
Cal Fire also has a Resource Management Program. Its goal is to maintain the sustainability of all of our natural resources. The Department achieves this goal by administering state and federal forestry assistance programs for landowners, demonstrating sound management practices on demonstration state forests, enforcing the California Forest Practice Act on all non-federal timberlands, providing research and educational outreach to the public on forest pests, and coordinating efforts for fuel reduction to reduce the risk of fire and improve the quality of California ecosystems. Cal Fire has been in existence for 112 years.
When fires are in the hills Cal Fire is in charge of all of the operations.
Tragically a Cal Fire firefighter from San Diego was killed while battling the Thomas Fire. The firefighter was identified as Cal Fire San Diego Unit Fire Apparatus Engineer Cory Iverson. He is the only firefighter to die to date fighting the Thomas Fire.
Pimlott said Iverson was 32 years old and is survived by his wife, Ashley, and 2-year-old daughter Evie. Iverson's wife is currently expecting their second daughter, Pimlott said.
Iverson had been with Cal Fire since 2009.