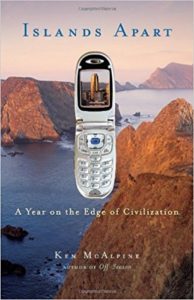 He wrote the book after purposefully spending weeks alone on the Channel Islands
On Jan 9, 2018, from 5:30-7:00 pm at the Topping Room, EP Foster Library the Sierra Club Ventura educational series is presenting Ken McAlpine speaking of a time to rethink our place in the environment and why we need nature.
Ken McAlpine has written 10 books but will speak about one in particular. Islands Apart: A Year on the Edge of Civilization was called "a rumination on what it means to be human", and McAlpine was lauded as "a humorous and humble guide who takes his contemplation of our busy world into unexpected places."
"Author Ken McAlpine stands in his front yard one night in Ventura, California, trying to see the stars. His view is diminished by light pollution, making it hard to see much of anything in the sky. Our fast-paced, technologically advanced society, he concludes, is not conducive to stargazing or soul-searching. Taking a page from Thoreau's Walden, he decides to get away from the clamor of everyday life, journeying alone through California's Channel Islands National Park. There, he imagines, he might be able to "breathe slowly and think clearly, to examine how we live and what we live for."
He wrote the book after purposefully spending weeks alone on the Channel Islands. Literary Travel says the book is "a humorous and wise look at contemporary American life—and how time spent alone in nature can give us a fresh perspective and greater clarity about what matters most. In this touching and surprising book, McAlpine does what many of us long to do – slow down and take a closer look at this one life we have."
A great time to learn and chat with others in the club, open to supporters and members.