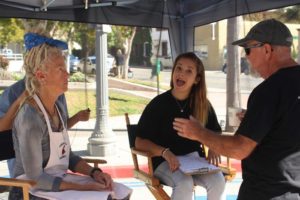 ECTV, the El Camino High School media program is in full swing with a slew of shows featuring artists, historians and local figures talking about important events and issues. Ventura's Mayor for A Moment series where outstanding 5th graders are recognized by the City and the Ventura Unified School District launched this month with video profiles of the young Mayors for a Moment from Portola Elementary and Poinsettia Elementary with more to come. Spotlight on Business featuring unique businesses around Ventura is back in action as well. Watch for their interesting profiles to be featured at City Council meetings.
Everyone in and outside of Ventura can enjoy the diversified programming from CAPS Media on cable, on the radio airwaves and streaming on the web. CAPS Radio, KPPQ 104.1 FM has joined CAPS Television (Channel 6 & 15) by streaming programming on the web 24×7.
Now What's on? Programming schedules are on the CAPS Media website, capsmedia.org. Plus, with a click of a button, capsmedia.org has direct access to live streaming of both TV channels and KPPQ-LP's station. Listen to the radio where ever you are and tell your friends to listen in. Wake up and go to sleep with a wide variety of programming to listen to.
It's always the right time to join the CAPS family, learn media production and direct your own show. Orientation meetings are held on the first Thursday of every month. HD videography/camera classes are on the 2nd Thursday, Final Cut postproduction editing classes are on the 3rd Thursday. CAPS Radio (KPPQ, FM 104.1) holds classes Wednesdays and Thursdays of the 4th week of the month. Come to radio orientation Wednesday to learn more. In every training session Member/Producers receive hands-on instruction in videography, video editing, radio production and more. All classes begin at 6pm at the CAPS Media Center, 65 Day Road. Once trained member/producers may check out CAPS Media's equipment to record their story and then book editing suites to craft the story they want to tell.
CAPS Media's mission is to create an engaged and informed community through participation in electronic media. Go to capsmedia.org to see programming schedules, search the archives for past programs, get general info and sign up for classes. Anyone who lives, works or attends school in the city of Ventura may become a Member/Producer. Annual membership fees are only $25 for an individual and $75 for a non-profit organization. CAPS Radio DJs require an additional annual fee of $50. For complete information go to www.capsmedia.org.