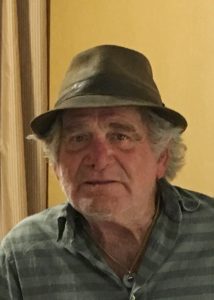 William Michael Kimball, son of Eileen M Coogan Benesch and William Frances Kimball, was born in St. James Mercy Hospital in Hornell NY on January 10, 1948. He was pre-deceased by his brothers Mark Kimball, and maternal grandmother Lena Kinne, both of whom he adored, and loving brother Richard Benesch and nephew Christopher Boisvert. Bill had one son, Marc Christopher Kimball.
Billy was independent, determined and survived a lifetime of struggles, in the elements and oftentimes against all odds. He loved working, and followed the career of one of his favorite uncle's, Uncle Carlyle, as a mason. He worked on the oil rigs in Texas and Louisiana, and was a commercial fisherman for years out of Los Angeles, and was passionate about fishing. Bill also worked in various seafood restaurants in LA.
As he aged, he missed fishing and loved and remained in the fishing community. He loved living in Louisiana and talked about returning. He barely survived Katrina with his longtime companion, Gail Blassingame. His passions were living outdoors. Always loved his dogs, yearned for family, and once stated he could never live in a 'Box'.
He recently reflected how blessed he was that he was at a point where could be his own man. Living with nature, the animals no one telling him what he had to do and how he had to live, and that he was able to do so on his terms, but life became difficult alone. His health had failed in the past year, where he could no longer fish and lifestyle and movement became limited, but he made sure his dog Baby was protected and cared for, even hindering his own medical care by not leaving Baby. He appeared tough, argumentative, rough, but was probably most sensitive, craving love of family.
Not everyone is aware, but locating and/or being the "Next of Kin" is not as simple as one would think. Bill's sister has been his most constant family contact for communication, physically, emotionally and frequently financially throughout his adult life. She has been his primary contact with hospitalization, medical care and the one with ongoing phone communication with him. She was the obvious one to be contacted for notification of death.
However, in the case of the homeless, once the Coroner-Investigator learns there is a wife or child, then legally the appropriate individual then becomes the new Next of Kin – and a search for those people is initiated. There is no timeframe for when that search ends, and the deceased remains cannot be buried or cremated until the identified Next of Kin are located.
In this case, it took 2 weeks to locate a son. It was a team effort and the family is most grateful to Waleed Kilany of the Ventura Coroner's Office for his kindness and effort.