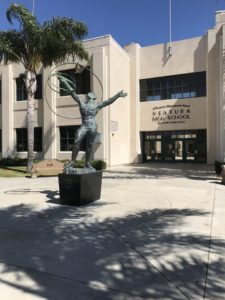 by Jennifer Tipton
Ventura High
Located at Two North Catalina Street, Ventura High School is Ventura's pioneer high school – it's been around since 1889! Just think students that went here fought in WW1! Currently about 2,155 students in grades 9 – 12 are enrolled and Ventura High is recognized as a California Distinguished School. Students must apply to attend and I'm told that there is a waiting list every year.
Ventura High is the only school to have 3 students selected for the air force and naval academies with scholarships of over $500,000 provided to each. Many alumni go on to Cal State Berkeley, UCLA, LMU and other big-name universities.
In his 3rd year as principal, Carlos Cohen states, "I'm proud to be the principal at Ventura's namesake high school, I feel like a Starfleet captain!" He is very proud of his students and shares that the VHS students donated the most blood in the entire county to The American Red Cross two years consecutively. According to principal Cohen, "our students are incredible community servants!"
The school's mascot is the cougar and every Venturan knows it's been the dogs (Buena's bulldogs) against the cats for years but principal Carlos emphasized, "it's a wholesome rivalry…"
VHS had 2 CIF championships last year and 7 Channel League championships. Several athletes have had "full ride" scholarships to college and many have gone on to become professional athletes.
There are eight career educational pathways including advanced computer science, automotive design and hospitality/culinary courses which are rigorous, yet well attended.
The music department is quite diverse with everything from a jazz band to a wind ensemble and the symphony orchestra competes at a collegiate level with a record of beating colleges!
Notable alumni include Mike Larrabee the double gold medalist in the 1964 Tokyo Olympics, Tyler Ebell and Chris Thomas the professional football players, Karen Grassle the actress (played Caroline Ingalls on Little House on the Prairie) and Bill Payne the founding member of the band Little Feat. And several City council members over the years.
When asked about the amount of homework the students are given, principal Cohen states, "it depends on the level of courses they're taking and grade level, we provide students with many opportunities to be successful." There are even online credit recovery classes (for when that homework didn't get done?).
For more information venturausd.org/ventura/home.aspx.