Her presentation included the written history of China.
What began on a single day with a single march has since evolved into a full-fledged coalition consisting of nine distinct task forces, each with a particular issue at its focal point. The grassroots organization Justice for All was formed after the resounding success of January's March for Justice, which assembled an estimated 2,500 people in Ventura to coincide with the Women's March on Washington.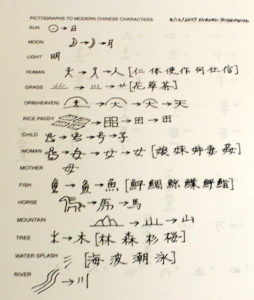 On August 12 the Cultural Equity Taskforce for Justice for All in Ventura, presented The Origin and Art of Chinese Characters a lecture, demonstration, with audience participation presented by Ventura artist Hiroko Yoshimoto at the Museum of Ventura County.
Her presentation included the written history of China and Japan and the evolution of modern Chinese characters explained in hand-outs and her lecture. She demonstrated, and discussee the history, and evolution of calligraphy as she drew (painted)examples on the set-up drawing easel.
The event was attended by a standing room (or sit on the floor) enthusiastic crowd who tried their hands at calligraphy after her demonstration and the answering their questions
For more information, including ways to get involved, visit Facebook.com/justiceforallventura.