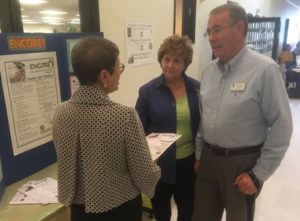 For people 50 and over, if you want at least a part time job to supplement your income or get back into the mix, ENCORE is the place to start.
It's a free, self-paced training program aimed at filling the gaps needed to become employable. Examples include computer software skills, internet basics, math, English, or simply creating a stand-out resume and honing your job-seeking expertise.
"Thank you for a great learning experience," wrote a recent student, Paige Cabasug, who found the training to be "a great confidence booster."
Another student, Norma Baer, "was really surprised I got a (job) response right away and I already have another job offer."
Thanks goes to VACE (Ventura Adult and Continuing Education), an arm of the Ventura Unified School District, in partnership with the Area Agency on Aging and city of Ventura.
ENCORE is not a traditional lecture-based class; instead you learn at your own pace any day of the week at locations in east and west Ventura. Call VACE at 289-7925 for details, or on-line at:
http://tinyurl.com/VenturaENCORE.
Businesses are also encouraged to contact VACE, adding to a growing list of job opportunities for these reliable and self-starting students.
Cabasug is an excellent example of a person who had minimal job skills, describing herself as a "domestic engineer" of a military family.
And Baer is an excellent example of a retiree who had 40 years of work experience, "but I wanted to supplement my Social Security and I got tired of sitting around the house. I needed to be around people."
"I met a lot of ladies in my same position who wanted to keep learning and wanted to work," Baer said.
Skilled or unskilled, ENCORE met their needs.
For Baer, "things just fell into place." It happened that her previous work – 40 years at the American Consulate in Germany – was a perfect fit for finding work in today's world of immigration changes, and her ENCORE training upgraded her computer skills.
"I liked it a lot, there's more of a teacher-student connection," she said of ENCORE, contrasting a "stiff, very dry" kind of education in Germany.
Now Baer has extra money to travel during her retirement, and Cabasug has the confidence and independence to be excited and proud about learning new skills and working beyond the home now that the children are grown and gone.