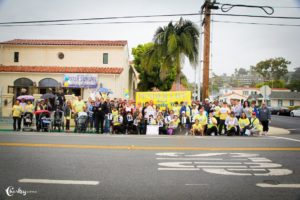 Project Understanding of San Buenaventura is pleased to announce its annual Tender Life Maternity Walk-A-Thon. The walk will be held on Saturday, March 4 at The River Community Church located at 889 Santa Clara St. Registration begins at 9:00am, and the walk starts at 9:30am.
This two-mile walk will take participants on a route around Ventura, from Thompson Blvd. to the Ventura Beach Promenade, with a returning stroll alongside downtown Ventura's surrounding streets. The walk will end at Tender Life Maternity Home located at 871 E. Thompson Blvd. where all walkers will be able to tour the home, meet the residents of the program, and learn more about Tender Life.
"Our annual Tender Life Maternity Walk is one of our biggest fundraisers. Donors, alumni and current residents come together in a community to walk along each other to support Tender Life. This is a great event and really brings the 'village' together as one,"says Karen Johnson, on-site Case Manager of Tender Life.
Proceeds of the walk-a-thon will be used to operate Tender Life Maternity Home. For over three decades, Tender Life Maternity Home has been devoted to serving abandoned pregnant women and children by providing food, shelter, and personal growth opportunities in a caring home where "courage meets compassion to build new lives."  It currently houses up to six homeless, pregnant women, who receive good pre-natal care and life skills training to prepare them for independence.
To register for the Tender Life Maternity Walk or for more information, please visit http://www.projectunderstanding.org or contact Karen Johnson  653-7474.