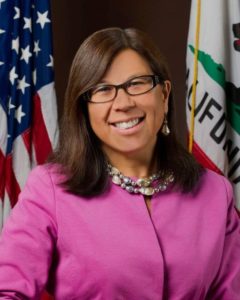 The Ventura County Women's Political Council is honored to have California State Controller Betty Yee as keynote speaker at its Annual Luncheon on Saturday, January 28, 10:30 – 1:30 pm at the historic Pierpont Inn, Ventura. Tickets are $35/members; $50/non-members. Sponsor opportunities are available. Seating is limited.  RSVP and reservations at vcwpc.org. For more information vcwpcouncil@gmail.com or call  216-8518.
Betty T. Yee was elected California State Controller in November 2014, following two terms of service on the Board of Equalization. As the state's Chief Fiscal Officer, Ms. Yee also chairs the Franchise Tax Board and serves as a member of the California Public Employees' Retirement System (CalPERS) and the California State Teachers' Retirement System (CalSTRS) Boards. These two boards have a combined portfolio of nearly $500 billion.  Ms. Yee also currently serves on the board of directors for the Equality California Institute. She is a cofounder of the Asian Pacific Youth Leadership Project, which exposes California high school youth to the public service, public policy, and political arenas.
Only 10 women have held constitutional positions in the state's history and Ms. Yee is currently the only woman holding statewide elected office in California. Kamala Harris served as Attorney General from 2011 through 2016 and is now serving in the U.S. Senate. Ms. Harris was the keynote speaker at VCWPC's annual luncheon in January 2016.
VCWPC is a multi-partisan organization whose objective is to achieve equality for all women. They encourage, recruit, train and support women candidates who will advance the goals of VCWPC and bring women's perspectives to every issue, foremost including reproductive health; and social, educational, environmental and economic justice.