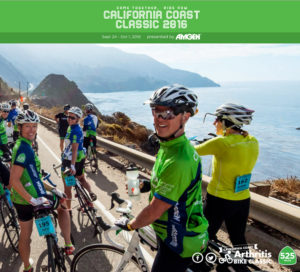 On September 24th, 250 riders will begin their 525-mile journey down the California Coast raising money for The Arthritis Foundation. The California Coast Classic Bike Tour will be coming through Ventura and you're invited to come meet the riders, volunteers and staff as they embark on this journey of a lifetime.
Join the riders at San Buenaventura State Beach on September 30th from 4-6pm or for morning interviews at 7am and on October 1 Social Hour with the riders.
The 16th Annual California Coast Classic Bike Tour is one of the Arthritis Foundation's top fundraising events, whose goal is to raise over $1.2 million this year. Funds raised support the Arthritis Foundation's mission to conquer the disease by spreading awareness and raising money for research. Arthritis affects over 50 million adults, or one out of five, and 300,000 children nationwide.
As the nation's largest private funder of research, public health programs and advocacy on behalf of the 50 million Americans with this painful disease, the Arthritis Foundation aims to reduce the number of people suffering from arthritis-related physical activity limitations.
The California Coast Classic benefits the Arthritis Foundation by raising vital funds needed to find a cure for arthritis. Money raised provides educational resources for adults and children, scholarships for our national Juvenile Arthritis Conference, kids' camps and much more.
For more information on the California Coast Classic Bike Tour, visit californiacoastclassic.org.