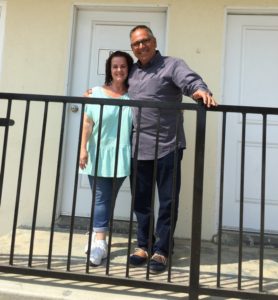 Graduates of The City Center's transitional housing program now have a new place to call home. To celebrate and unveil the newly retrofitted graduate housing, a ribbon cutting event will be held on Friday, Sept. 9 from 5:30 to 7pm at The City Center, 837 East Thompson Boulevard.
"After months of construction and generous contributions from the community, we are so very pleased to offer this extension of our transitional housing program," states Jim Duran, Executive Director of The City Center. "I am personally so proud of these graduates, all of whom have worked extremely hard to rebuild their lives and qualify for graduate housing. They are all employed, own a vehicle, have substantial savings and are no longer receiving government funding."
Guests will have the opportunity to meet the program graduates, tour the Center, and meet additional residents, staff, board members and local dignitaries.  Guests of honor will include the graduate housing sponsors:  Trinity Lutheran Church, LOWE'S Ventura, Bill & Elise Kearney, Coast Water Solutions/Brian & Kathy Meyer, Pacific Western Bank, Shonda & Eric Vielbig, Diane Mancinni (In Honor of Paulino Romero), Lorie & Andre Nintcheff, Wendy Lawson-Leach (In Honor of Anna Laura Sann), and Home Depot.
Refreshments are being provided by Main Street Meats and Missy's Cupcake Creations.
The City Center helps homeless families by providing a temporary, safe place to call home. During their residency, clients find stability so they can focus on getting their life under control and obtaining the help and necessary skills they need to get back on their feet.
The City Center's transitional housing program includes a high level of accountability with the goal of transitioning clients into long-term housing within one year. Clients contribute 30% of their income for housing and services while 20% is saved for future financial stability. Clients must also be employed or actively engaged in seeking employment. Services include comprehensive professional case management, spiritual and life mentoring, job placement services, and other critical needs.
Guests can RSVP online at http://eightmorerooms.eventbrite.com.
For more information, please email info@thecitycenter.org.