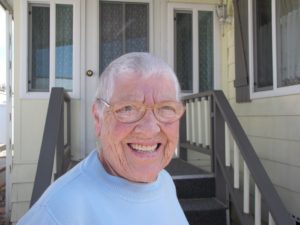 by Phil Chandler, Owner of Right at Home of Ventura County, Home Care Agency
As part of an occasional series, the Breeze interviews local senior residents about their bucket lists – or "what we wish to accomplish before we are shuffled off this mortal coil".
Do you remember when you were five and you were dreaming about what your life would be like when you were grown? You may not have realized it, but you were forming your first bucket list – what you dream to do before you can't.  Writing you list helps you remember what you enjoy in life, and can cheer you up.  The act of writing it is energizing, and just talking about what is on your list can motivate you to get it done. There are no right or wrong activities; the list reflects your dreams. It will remind you of what you enjoy in life, suited to your physical ability and risk tolerance.
Oxnard resident Tina H. grew up in England during World War II. She survived the London blitz, a terrifying period in England's history. Her father instilled within her a strong sense of adventure through travel. She emigrated when she was 23, and launched an adventurous life here in the States. She earned her way selling magazines door to door, travelling throughout the Midwest and the East Coast. It was a great way for a young woman to learn about America and its diverse culture and geography.  Along the way she worked in a factory manufacturing ball point pens, a new technology at the time. After settling in California, she worked several jobs including driving cars from Europe off of the ships ready for sale in the US. Tina is a resilient woman, having survived two bouts of cancer and the accompanying chemotherapy and radiation treatments. On top of that, she has been married twice. At 83 years young, Tina has an extensive bucket list!
Number one on the list is a trip to New Zealand. Discovering this beautiful country will be a spontaneous adventure, as she doesn't know what she will find when arriving. She plans to go during their summer so she will have good weather, perhaps in the fall. When asked how long she will spend there, she replied "could be two weeks or two months, depending on what I find!".
She enjoys fishing and has crossed "catching halibut" off her list. Next is a trip to Alaska to catch salmon. Salmon are notoriously difficult to catch, and require skill and patience.
A trip to Maui is next on her list. The helicopter ride through mist covered mountains with cascading waterfalls and tropical bluffs appeal to her love of nature. The beautiful beach doesn't hurt either.
Tina has a bright sense of humor and a zest for life. She doesn't allow her illnesses to define her, and has written a bold and exciting bucket list.
If you have an interesting bucket list story to share, call Phil Chandler at 389-5320.