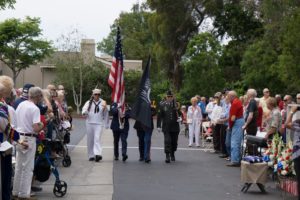 Cypress Place Senior Living will host a special "Salute To Our Veterans" celebration with a ceremony recognizing residents of Cypress Place, as well as members of the public, who served their country.  Come join us for this powerful tribute.
A military Color Guard presentation will lead the tribute, followed by a special Veteran recognition, along with recognition of widows and widowers of Veterans.  Keynote speaker for this touching tribute will be Captain Chris Janke, Commanding Officer, Naval Base Ventura County.
Captain Janke is a graduate of the United States Naval Academy.  Following training as a Naval Flight Officer he completed numerous deployments worldwide, as well as stateside.  One assignment was to the Joint Chiefs of Staff, Operations Directorate (J-3), where he was charged with preparation of Sensitive Reconnaissance Operations mission packages for Presidential approval.
In addition to Captain Janke's presentation, a tribute to fallen heroes will be led by Ventura County Sheriff Geoff Dean.
"The freedoms we all enjoy today are only possible due to the great service and sacrifice of so many Veterans throughout the years," said Mike Macke, director of sales and marketing at the senior community.  "We want to honor them, and make sure we don't forget what they have done for their country."
Words of thanks will also be offered by Ventura City Fire Chief David Endaya, Ventura City Councilmember Cheryl Heitmann, and Ventura Chamber of Commerce President and CEO Stephanie Caldwell.
A free BBQ lunch will follow the powerful program.   "Touching History", a private war memorabilia collection by Tom Weaver will also be displayed, along with memorabilia from residents of the senior community.  Residents, families, and friends of the community are welcome to attend.  The event is free and open to the public.
Free shuttle parking will be available at Unitarian Universalist Church of Ventura (corner of Ralston Street and Cypress Point Lane).
This inspiring event begins promptly at 11am on Wednesday, June 29th, 2016 at Cypress Place Senior Living.  Cypress Place Senior Living is located at 1200 Cypress Point Lane in Ventura.  For more information or to RSVP, please call 650-8000.
To learn more about Cypress Place Senior Living of Ventura, visit their web site at www.cypressplaceseniorliving.com.