Attendees get groovy at the Cypress Place Senior Living 70's Party & Classic Car Show on September 16.  The event kicked off "Suitcases For Kids".  New or used suitcases may be dropped off to Cypress Place until October 16.
Photos by Michael Gordon
In collaboration with New Hope Senior Services, please join Cypress Place Senior Living for an Alzheimer's & Dementia Caregivers Support Group.  Facilitator for the support group will be Norma Featherston, R.N., M.S., Gerontology.  Featherston is a geriatric care consultant with New Hope Senior Services.
Join them for these informative meetings and gain support from others in a caring and understanding environment.  Ask questions and get straight answers from people who have been there.  Learn creative and caring problem solving techniques and caregiving ideas, and discover that you are not all alone in the way you feel.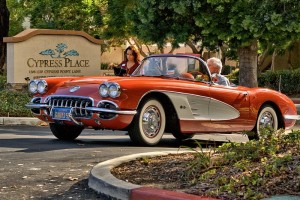 Respite care is available for your loved one while attending the support group meetings.  This is a complimentary service, but an RSVP one week in advance is required to participate in respite care.
Support group meetings will be held from 9:30a.m. to 11a.m. the first and third Wednesday of every month, beginning in October.  The support group is free and open to the public.
Cypress Place Senior Living is located at 1200 Cypress Point Lane in Ventura.  Seating is limited so please call to reserve a seat.  For more information or to RSVP, please call 650-8000.
To learn more about Cypress Place Senior Living of Ventura, visit their web site at www.cypressplaceseniorliving.com.