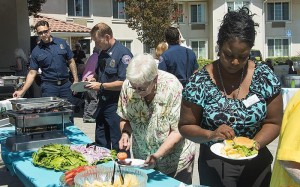 Ventura Firefighters  Andres Espinosa and Ben Davis were honored and enjoyed the BBQ with guests and employees at the Palms at Bonaventure
Photo by John Ferritto
The Palms at Bonaventure along with Assisted Home Hospice and Home Health hosted their 3rd annual First Responders Barbeque August 27th. This is a wonderful event that they hold annually to not only thank our first responders but to also allow the community to thank them. This year they  had a wonderful community presence and many local firefighters and emergency services personnel were able to join in. The Palms at Bonaventure Executive Chef, Michael Callahan, barbequed chicken, hamburgers, and hot dogs along with many wonderful sides. Tom Weaver provided the entertainment to keep the afternoon fun. Many of the local firefighters danced with guests and residents. The Palms at Bonaventure and Assisted Hospice and Home Health presented Ventura Fire Department Station #6 with a plaque during the event to thank them for all that they do for our local community. The Palms appreciated the community and local first responders for making this event so successful.