Foto: 61 Happy volunteers after 4-5 hours. Photos by Patricia Schallert and Michael Gordon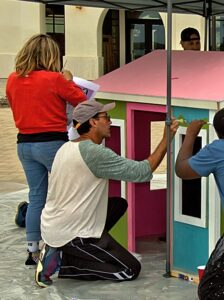 On Saturday, June 24, Portside Ventura Harbor presented Playhouses by the Sea with Habitat for Humanity of Ventura Harbor (building homes, communities& hope) There was construction and painting of three beautiful playhouses for military and veteran families. A wonderful opportunity to give back to our community and make a positive impact. Each playhouse was pre-cut and took 4-5 hours to assemble and paint.
Portside, Habitat and Ventura volunteers joined together to make Gabby's Playhouse theme for the Feliciano Family, Pirate theme for the Munoz Family and Jungle Theme for the Blanding Family.
Playhouse Builds are special in that participants get to interact with military and veteran families who arrive at the end of the day to receive their playhouses. In many cases, the playhouses are a surprise to the children, and getting to see their reactions was priceless.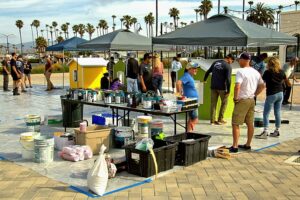 The event also featured a captivating 4-hour live performance by Teresa Russell, along with a free breakfast and lunch of wonderful sandwiches and sides provided Portside's Harbor Mart
Playhouse Build team members also received a Habitat Ventura t-shirt.
Habitat stated "We're building a county where everyone has a safe, decent place to live. We build and sell affordable homes, offer critical health and safety repairs for low-income homeowners, offer financial education, and advocate for policies that create more housing for struggling families."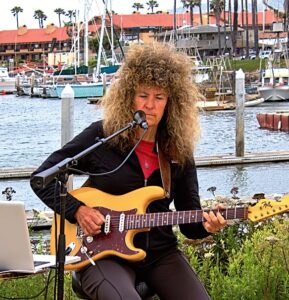 "Our Playhouse Build Days are a unique building opportunity for teams to work together to construct and decorate children's playhouses, which are then donated to military and veteran families in Ventura County. Proceeds raised by Playhouse Build Days provide direct support for our programs that help struggling families obtain safe, affordable housing."
How can you sign up to host a Playhouse Build day? Contact Crystal Star at [email protected].