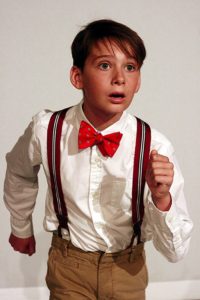 Students from Rubicon Theatre Company will be staring in what is sure to be a "master-peach" of a production – a delightfully offbeat musical adaptation of Roald Dahl's beloved book James and the Giant Peach, JR. Featuring music and lyrics by Tony nominated songwriters Justin Paul and Benj Pasek, and book by Timothy Allen and directed and choreographed by Carolanne Marano, with Musical Direction by Miriam Arichea.
James and the Giant Peach JR. is the fantastical tale of a boy, his insect friends, and their amazing journey across the ocean on a giant piece of fruit. In the story, a young orphaned child finds a loving family in a most peculiar way. Together they discover that while we are all born into a family, we also make a family of our own.
James and the Giant Peach, JR. features a joyous musical score, puppets, and a cast of 24 elementary and high school students ranging in age from 8 to 15. The production is perfect for families and recommends for children ages 2 to 15.
James and the Giant Peach JR. runs July 7, 8, 9 and 10 at 7:00 p.m. and July 9 and 10 at 2:00 p.m. at 1006 E Main St. Advance tickets sales are $15 for kids ages 2 to 12 and $20 for those 13 or older. (Tickets are $5 more at the door.) To purchase by phone, call the Rubicon Box Office 12:00 p.m. – 6:00 p.m. 7 days a week at  667-2900. To purchase tickets online, go to www.rubicontheatre.org.