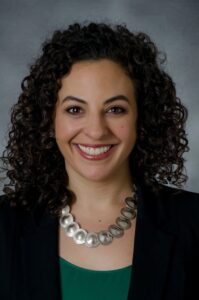 Community Memorial Health System is proud to welcome Jamie Maites, a seasoned healthcare executive from Northern California, as its new Vice President, Marketing & Development. Maites brings the health system nearly 20 years of healthcare marketing experience.
"I'm thrilled to join this innovative and influential organization. I look forward to advancing our vision – to be an indispensable community treasure – and am grateful to my predecessor, Michael Ellingson, for the work he and the team accomplished over the years," said Maites, of Ventura.
Previously, Maites served as Vice President of Marketing & Communications at MarinHealth, an independent healthcare system in the San Francisco Bay area comprised of a 327-bed hospital, 40+ clinics staffed by more than 150 physicians, and a philanthropic foundation that supports the healthcare system. During her tenure there, she oversaw brand strategy as well as internal and external communications. Maites led marketing efforts to regain community preference for the hospital, pass a $394 million bond initiative, and prepare for and support the grand opening of a new hospital. She also drove a full-scale rebranding effort when the hospital, medical network, and foundation combined under a single umbrella brand with a seamless system offering.
Most recently, Maites showed strong leadership throughout the pandemic. Her team used a full range of communications tools including broadcast, print, digital media, social media, direct mail, and email to keep physicians, staff, patients, and the community informed about changing policies, testing, treatment, and more.
Prior to joining MarinHealth, Maites worked at El Camino Hospital in Mountain View, CA, where she supported marketing, community relations and planning objectives.
In her free time, Maites enjoys staying active both indoors and outside. Her passions include cooking, traveling, hiking, and scuba diving. She is also the proud owner of a "pandemic puppy," a Havanese/toy poodle that she adopted in September 2020. Maites earned a Bachelor of Arts degree in Business Management Economics from UC Santa Cruz in 2004 and studied abroad for a year with the UC Education Abroad Program at the University of Melbourne in Australia.
"We are excited to welcome Jamie to our organization. Her dynamic skill set and breadth of experience in healthcare marketing and communications will bring a fresh perspective and energy to the community," said Gary Wilde, President & CEO of Community Memorial Health System.
Community Memorial Health System's former Vice President, Marketing & Development, Michael Ellingson, retired in 2021 after 16 years of service to the organization. "Michael led our efforts to become the regional healthcare system of choice, and in exceeding our capital campaign goal of $25 million to support the construction of our new hospital. The impact he had will long be remembered," said Wilde.