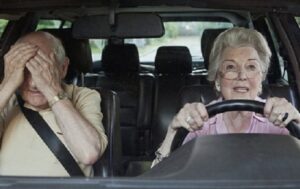 Have you been worried about your driving? Have your family or friends expressed concern? Changes in your health may affect your driving skills over time. Don't risk hurting yourself or others. Talk with your doctor about any concerns you have about your health and driving.
As you age, your joints may get stiff, and your muscles may weaken. Arthritis, which is common among older adults, might affect your ability to drive. These changes can make it harder to turn your head to look back, turn the steering wheel quickly, or brake safely.
See your doctor if pain, stiffness, or arthritis seem to get in the way of your driving.
If possible, drive a car with automatic transmission, power steering, power brakes, and large mirrors.
Be physically active or exercise to keep and even improve your strength and flexibility.
Think about getting hand controls for both the gas and brake pedals if you have leg problems.
Your eyesight can change as you get older. It might be harder to see people, things, and movement outside your direct line of sight. It may take longer to read street or traffic signs or even recognize familiar places. At night, you may have trouble seeing things clearly. Glare from oncoming headlights or streetlights can be a problem. Depending on the time of the day, the sun might be blinding.
Eye diseases, such as glaucoma, cataracts, and macular degeneration, as well as some medicines, can also cause vision problems.
If you are 65 or older, see your eye doctor every year. Ask if there are ways to improve your eyesight.
If you need glasses or contact lenses to see far away while driving, make sure your prescription is up-to-date and correct. Always wear them when you are driving.
Cut back on or stop driving at night if you have trouble seeing in the dark. Try to avoid driving during sunrise and sunset, when the sun can be directly in your line of vision.
Trouble Hearing
As you get older, your hearing can change, making it harder to notice horns, sirens, or even noises coming from your own car. Hearing loss can be a problem because these sounds warn you when you may need to pull over or get out of the way.
Have your hearing checked at least every 3 years after age 50.
Discuss concerns you have about hearing with your doctor. There may be things that can help.
Try to keep the inside of the car as quiet as possible while driving.
Dementia and Driving
In the very early stages of Alzheimer's disease or other types of dementia, some people are able to keep driving. But, as memory and decision-making skills get worse, they need to stop.
People with dementia often do not know they are having driving problems. Family and friends need to monitor the person's driving ability and take action as soon as they observe a potential problem, such as forgetting how to find familiar places like the grocery store or even their home. Work with the doctor to let the person know it's no longer safe to keep driving.