Josh D. makes it look easy at AWOW's event. Photo by Peter Snell.
by Amy Brown
"The first wave I ever caught, I felt like a mermaid—and I was flying!" said 14-year-old Grace Gerenser, with a giant grin, describing the first time she tried surfing with A Walk On Water (AWOW). She'd just finished her session at the recent AWOW event at Surfer's Point, catching wave after wave with an instructor on the board with her. AWOW provides surf therapy—guided surf instruction–to children with unique needs. This is Gerenser's eighth year participating in the event, and she had some solid advice for any young people considering trying it out. "I caught a lot of waves this time—they were massive and huge!" she said. (She was right.) "Don't be nervous, though, just stick with me, you can practice on the sand first, and just be sure to listen to your instructor."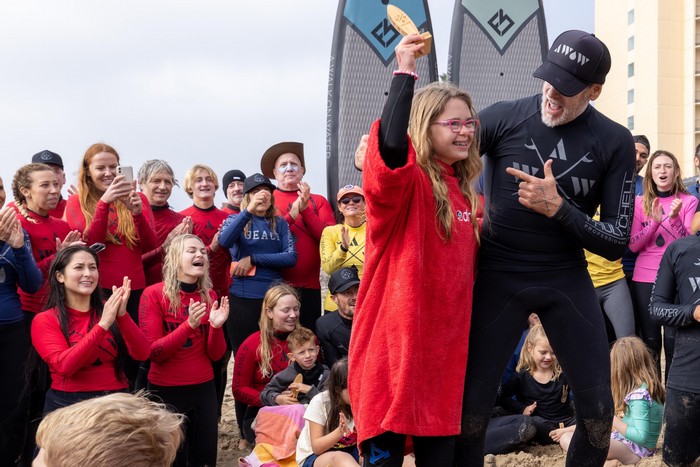 Grace's mother Tammy was thrilled with the event and how the program has positively impacted their lives. "Her first time with AWOW, we were like 'Ok, so she doesn't really know how to swim…' and her now long-time instructor, Steven Lippman, one of the founders (whom Grace calls 'Uncle Lippy') just said 'I've got this. She's going to be fine,' and frankly, we haven't looked back since." She shared how strong and protective the surf instructors are that take the kids out on the boards with them. "They are amazing, they have such strength and skill, and we know she is completely safe with them. And she gets to do something she wouldn't be able to do otherwise."
Lippman said that while giving back is a primary AWOW objective, making meaningful connections with the kids and their families is key. "AWOW is a family, and we strive to create these relationships with these families over years, and creating that bond, developing trust is what gives these athletes the experience, and the parents get to witness a pretty amazing moment in time for their children." said Lippman. "We treat them like they're our own. Each of these athletes is a hero."
About 50 families signed up for the event, including some from as far as Utah and from Northern California—like 9-year-old Josh D. and his parents Angie and Lee. "He had so much fun! There's a reason why we drive so far, we usually go to the ones in Northern California, but we just couldn't stand waiting any longer. We all had a great time, and he was just floating on air, and couldn't wait to go back to school and tell his friends about it," said Angie, who shared that her family has participated in the events for the last four years.
According to Angie, the entire experience provides fun and confidence to the kids far beyond the exhilaration of riding the waves. "It's more just the camaraderie, being around people who believe in him, and that's something AWOW brings. You're not being treated like you have a disability out there–you just do it, that's the greatest thing, as well as the confidence of actually of catching a wave." She reported that Josh came running up to them as soon as he'd surfed in the event, grinning ear to ear, shouting, 'I did it!'
Kim Murphy is the Director of Volunteer Engagement for the organization and reported that it was particularly meaningful to end this 2021 season in Ventura. She and her husband are well known for their surfing dogs, the late, great Haole Boy, who was honored at the end of the event, and his younger brother Pancho, who is just starting to surf. "The smiles seen all day on the beach leave me with the absolute purest form of happiness," said Murphy.