Reverend McCurtis from Face of Ventura by Johanna Spinks.
Born in Stonewall, Mississippi, in 1932, Reverend Luther McCurtis' was fascinated to grow up as a young boy in a state where Jim Crow laws forbade blacks and whites to socialize, but each Christmas, the owners of the Stonewall Cotton Mill near his home, erected a huge Christmas tree bedecked with gifts of all kinds for all of its employees, regardless of race. This memory contributed greatly to the growth and development of Luther's passion for equality, his humanitarian nature, and his love for all people.
At the tender age of five, Luther's mother died. By age 15, he left Mississippi to live with his brother in Oklahoma. Shortly thereafter, in 1951, he dropped out of high school to join the United States Air Force (USAF), and earned his high school diploma during his tour of duty.
Luther's superior officers in Guam noticed his leadership potential and appointed him to serve as a referee over racial and personal disputes. Through this experience Luther sharpened his leadership skills.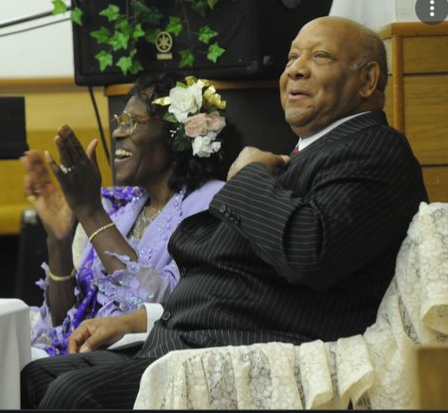 He stated "In 1953, while guarding a B-52 bomber, God called me into the ministry. After a deep internal struggle, I surrendered his will to God and accepted The Call. From the onset, I never planned to be just a "Sunday preacher" and challenged God to show him how to contribute to the spiritual, social, and economic well-being of "the least" in the community."
He married Oracia Lane, the youngest daughter of a poor, but prominent pastor and wife in Hobbs, New Mexico in 1954. By 1959, he became an ordained minister and moved through several states with four young children in tow, finally settling in Ventura.
In faith he built a church from the ground up where they could make a difference to the community. With less than 10 members in 1962, Luther and Oracia founded the Church of God in Christ of Ventura in a small storefront. The following year, with a miniscule $100.00 down payment, the Reverend purchased the property, which stands at 660 N. Ventura Ave.
In 1982, Congressman Lagomarsino's recommendation resulted in Reverend McCurtis receiving one of the United States of America's highest honors— the prestigious Presidential Volunteer Action Award from President Ronal Reagan presented to him by First Lady Nancy Reagan,
Seeing so many in need in the community, he took another leap of faith to help assist the neediest members of society without using any government money. In 1968, he founded the Employment Aptitude and Placement Association (www.eapassn.org/). Over the years he has worked and sacrificed to help thousands find jobs and get out of poverty. Me & My Pillow, McCurtis' upstart pillow company, is part of this strategy to found smaller side-businesses that will not only generate income but provide more local job opportunities. He has offered so much to so many, and never asked for any money in return.
Visit www.TotalLifeChristianCenter.com and read for yourself about the fruits of all this ministry has done over the years. Reverend McCurtis' dream will live on for many years to come, bearing fruit that will continue lifting people out of poverty and giving them lasting hope for the future!
The family has requested in lieu of flowers, send donations to the following: Either In Memory of Luther McCurtis P.O. Box 262 Ventura, CA 93002 or to Total Life Christian Center 660 North Ventura Ave. Ventura, CA 93001.