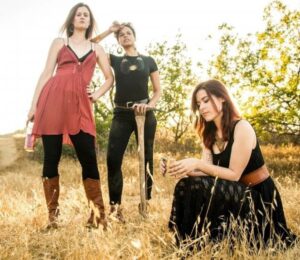 "Prepare to be stunned by The Honey Whiskey Trio. They create moving vocal music but you will also see and hear elements of dance and theatre in their performance. They draw deeply from the well of American musical tradition. We are thrilled to have them as part of our series of Americana-themed shows this Fall" said Namba Arts Musical Director Doc Ventura.
Courtney Gasque Politano, Ann Louise Jefferies Thaiss and Christina Wilson began singing together in each other's living rooms as an emotional and musical release. In 2013, after seeing the impact of their music on the contemporary A cappella community, these sisters in song solidified their style as American Folk and picked up instruments to further enhance their vocally driven sound.
Today their passion for music education, community outreach, and singing unapologetically continues to drive them. They create, arrange, and explore music from the front porches, music halls, and hymn books of early America, sharing it with students, adults, and life-long music lovers across the United States.
Tickets for this show are $20 and may be purchased at the Namba Arts website https://nambaarts.com. Please note that proof of vaccination or Covid test must be presented to enter.
Other upcoming Americana music shows at Namba Arts this Fall are: The Carolyn Sills Combo Nov 13, The Healers ft. Henry Carjaval Nov 19, Phil Salazar and the Kinfolk Nov 20, Anna May December 4.