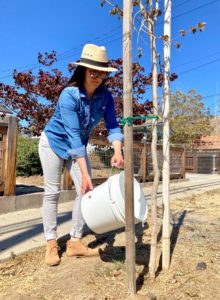 Many of Ventura's trees are drought-stressed. If you have a young tree in your yard or a city street tree in front of your house, a few buckets of water each week will help it survive.
There are over 30,000 street trees in the City of Ventura, so the city's urban forestry crew appreciates each resident who can provide water for thirsty trees.
Mayor Sofia Rubalcava and the Ventura Tree Alliance encourage you to help our urban forest stay healthy during the dry summer months!