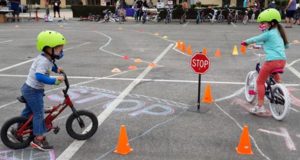 Do you remember learning how to ride a bike for the first time? The struggles, the frustrations suddenly turning into exhilaration, pride and joy as one achieves this childhood milestone! On Saturday, June 19th, at least 12 of the Ventura County foster, adopted and kinship children attending this Kids & Families Together and Heart 2 Heart event had never ridden a bike before. Within a few hours, they left the event with a bike, new helmet and the confidence that comes from learning a new skill!
K&FT is grateful to the event partners who made this day so memorable and successful for so many Ventura County children! "With their help, 80 children learned bike safety, enhanced their riding skills and at least 12 children learned how to ride a bike for the first time! Just in time for some Summer fun!" stated Jeni Futvoye, K&FT Community Resource Manager
The creation of this event was inspired by grandparents who were receiving support in some of K&FT's programs. They were a kinship family and had their 7-year old granddaughter in their care. Their granddaughter really wanted to learn how to ride a bike, but neither of the grandparents felt that they were physically capable of safely helping her. The grandmother reached out to K&FT looking for help. That one phone call, sparked the idea for this event which first took place in May of 2019.
2021 Bike Rodeo partners and event sponsors donated helmets, bikes, coloring books, bike safety gear, and more! Thank you to Crosspointe Church Ventura for the wonderful location and storage. Thank you to Pastor Matt, Mark and Lewis! Thanks to Joey and Alex from Bike Ventura for their bike instruction, safety expertise, additional event volunteers, bike service, and the donation of 15 bikes. Thank you to CHP Ventura, Moorpark and San Luis Obispo, for their bike safety expertise, organization of the bike course, donation of helmets, coloring books, bike safety gear, and bringing additional volunteers to the event. Thank you, Officer Steve Lutzke and colleagues! Thanks also goes out to … The Gene Haas Foundation, Project Bicycle Love, Royal Family Camp, Camarillo Amber's Light Lions Club, The Local Love Project, Open Air Bicycles in Ventura, Raising Hope, Left Coast Parrot Heads and individual donations that came from members of the local community.
These events are always a huge success due to many dedicated and amazing volunteers! 2021 Bike Rodeo volunteers included members of: Bike Ventura, CHP, Camarillo Amber's Light Lions Club, Left Coast Parrot Heads and many local community members.
Kids & Families Together (K&FT) is a nonprofit that has been serving foster/resource, adoptive, kinship, and birth families throughout Ventura County since 2000. K&FT works with children who have experienced trauma, abuse, neglect, loss, and multiple placements. K&FT also works with caregivers who need specialized education, support, and strategies to help raise safe, healthy, nurtured children who thrive.
For more information about K&FT please visit us at: https://www.kidsandfamilies.org/
To learn about all K&FT events supporting Ventura County Foster/Resource, Kinship, Adoptive, and Bio-families please visit: https://www.kidsandfamilies.org/giftaway-events/
.