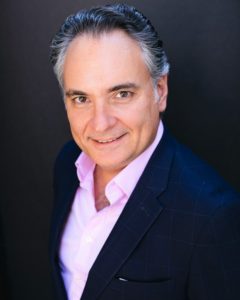 Opera Santa Barbara is thrilled to close its unexpected 20|21 Season with the company premiere of its first Richard Wagner opera, Das Rheingold. The only performance will be Sunday, June 27 at 2:30PM at the Lobero Theatre. This production marks the first for the company inside a theatre in more than a year.
Graham Vick and Jonathan Dove's version of the Ring Cycle captures the mighty essence of Wagner's masterpiece in an abbreviated time frame of 1 hour and 50 minutes, with just 12 singers and 18 orchestral players. The pocket-sized miracle premiered in Birmingham, UK in 1990, and has been presented by dozens of opera companies around the world. Described by reviewers as "ear opening" and "imaginatively fresh", the "Dove Ring" has made it possible for smaller companies to introduce this much admired but often intimidating work to new audiences in an accessible way, while still satisfying Wagner fans. The plot unfolds with cinematic pace, character interactions become more intimate, and Dove's masterful orchestral reduction beautifully reflects the splendor of the original score, while bringing out musical motives and details.
"Last summer I promised our fans, donors, and workforce that Opera SB will raise its curtain within 30 days from the time restrictions to indoor performances are lifted. The time is here, we've been preparing for this a year, and our team is in top form. I can't wait to work with some of my favorite artists on our company's first Wagner opera, and to conduct my own first Wagner with the amazing musicians of the Opera Santa Barbara orchestra," says Artistic and General Director Kostis Protopapas.
Designed by director Crystal Manich (Il Postino, 2020) and Projection/Lighting Designer François Pierre Couture (The Cunning Little Vixen, 2017), Opera Santa Barbara's new production brings Wagner's mythical world to life through a combination of powerful vocals, video projections, and 80's rock-inspired costuming. Bass-baritone Kyle Albertson and baritone Timothy Mix make their Opera SB debuts as Wotan and Alberich. Opera SB favorite mezzo-soprano Nina Yoshida Nelsen is Wotan's defiant consort Fricka, while Anya Matanovich (The Crucible, 2019) returns as the beautiful Freia, the coveted goddess of love. Robert Norman returns as the cunning Loge, and the playful Rheinmaidens are portrayed by Christina Pezzarossi and Chrisman Studio Artists Brooklyn Snow and Max Potter. Nathan Stark (The Barber of Seville, 2018) and Colin Ramsey (Madama Butterfly, 2019) are the scorned giants, Fasolt and Fafner, Alissa Anderson the prophetic Erda, goddess of the earth, and LaMarcus Miller as the thunder god, Donner. Artistic and General Director Kostis Protopapas conducts his first Wagner opera, with 18 members of the Opera Santa Barbara Orchestra on stage.
Detailed health safety protocols will be issued to ticket holders a few days in advance of the performance according to the government and industry guidelines that are in effect at that time of the show.
Tickets will go on sale to the general public on Wednesday, May 26 and will start at $79. For now, patrons can purchase VIP Premium Tickets with concierge service, Sponsorships, or get on a waitlist for pre-sales of General Admission tickets on May 24. Please visit the OSB website for more information.
***