Ventura County participants are joining in with others across the country to fight the darkness of Alzheimer's by doing an activity that they love for The Longest Day — an Alzheimer's Association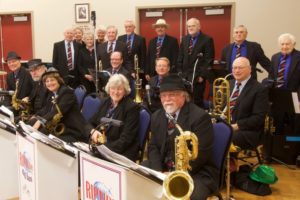 fundraiser that culminates on the summer solstice, the day with the most light.
"The Longest Day is a fun way for people to join the fight to end Alzheimer's and other dementia by involving their business, friends and family in any hobby or activity of their choice," said Jeffery Glover, Development Specialist with the California Central Coast Chapter of the Alzheimer's Association. "All proceeds provide local care and support, as well as critical global research."
This year, fundraising activities are taking form in a variety of different ways, from bake sales to video game tournaments.
Leila Thayer Malone has been restoring pieces of antique furniture in her workshop, which she describes as her "happy place."
Riptide Big Band, the Central Coast's premier 15-piece dance band, will be playing a concert at a senior club.
Laura DeLoye is doing dance-grams while dressed up as Uma the Unicorn, a returning event from last year that successfully raised over $2,500 in 2020.
Others are taking advantage of the beautiful outdoors along California's central coast.
Juerg Geser will be paddle boarding in the Channel Islands Harbor from sunrise to sunset on June 20, accompanied by local friends and others around the world.
Glover shares that the need for support is greater than ever. "There are over 690,000 Californians currently living with Alzheimer's or some other form of dementia, with over one million caregivers watching over them," says Glover. "The chances are very high that you or someone you know has been affected by this disease in one way or another."
To learn more or get involved in The Longest Day, visit alz.org/tld or contact Jeffery Glover at jkglover@alz.org.