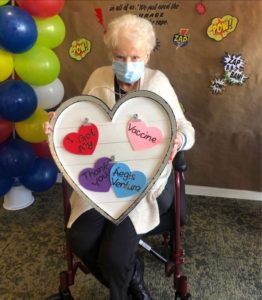 A long-awaited day finally came for Aegis Living Ventura, local assisted living and memory care community. On February 23, the community hosted its second vaccine clinic and now has more than 90% of residents vaccinated.
To celebrate the occasion, the community came alive with a superhero-themed event. After receiving vaccines, residents tossed on superhero capes and gave their best pose in a photo booth before enjoying refreshing root beer floats and other treats, along with music and entertainment by the community's Life Enrichment team.
I couldn't be prouder to have more than 90% of our residents now vaccinated," said general manager Sam EL-Rabaa. "This is a critical step in protecting our community and creating one of the safest places on the planet for our residents, team and families."
Residents expressed the same joy as they received the vaccine and looked ahead to what is to come.
"While I was hesitant at first, the clinic went well, and I had no real side effects" said resident Shirley Rutherford. "Now I will be more protected for my upcoming surgery."
Leading up to the vaccine clinics, Aegis prepared both residents and staff with several educational opportunities, including a virtual town hall with medical experts from Aegis Living's Coronavirus Advisory Council. Aegis also prepared several educational videos and tools for residents and staff to research more on their own. The goal was to create a supportive environment and help everyone in the community better understand the science behind the vaccine and its benefits.
With the first two vaccine clinics complete, residents are finding other moments of joy with small group activities such as group exercise, courtyard walks, art classes, happy hour and more.