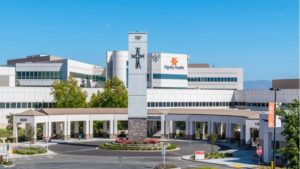 Dignity Health St. John's Regional Medical Center (SJRMC) is pleased to share with the community the completion of the new Mercy Cross tower, which celebrates the heritage of the regional medical center's founding sisters— the Sisters of Mercy. The announcement coincides with Feastday of Our Lady of Mercy (Mercy Day)—a date observed annually throughout the world in remembrance of Catherine McAuley's establishment of the first House of Mercy in Dublin, Ireland, on September 24, 1827. It is through Catherine's ministry that the Religious Sisters of Mercy were founded.
The new Mercy Cross tower, which stands tall outside the hospital's main entrance, celebrates the Sisters of Mercy and their contributions to the region's health and well-being.
At the request of community leaders, the Sisters of Mercy arrived in Oxnard from San Diego in 1911 to help establish health care services for the thousands of residents who settled on the Oxnard plain. In May 1912, with Oxnard's pioneer families' help, the Sisters of Mercy opened the doors to the six-room wooden structure hospital, called by the name St. John's Hospital. In its 108 years of service to the community, St. John's has expanded its services and community outreach to stay true the founding principles of delivering high quality and compassionate health care to the community.
The new Mercy Cross tower was made possible by the generous contributions made by St. John's employees to the St. John's Healthcare Foundation's Beacon of Mercy campaign. For more information about the St. John's Healthcare Foundation, please visit SupportStJohns.org.