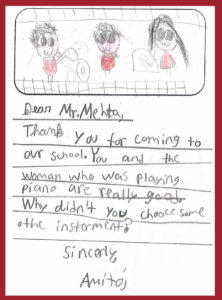 by Kacie Goff
In a year when most people are trying to create more distance between themselves and others, Christina Cabral is on the frontline helping individuals and families experiencing or at risk of homelessness.
Cabral was hired as the City and County's new Proactive Outreach Worker in December, 2019 and had to pivot immediately upon stepping into her new position due to the coronavirus pandemic. "Things are different, but we've tried to offer the same customer service to our clients while taking precautions," she said.
Her new role — which is funded by Measure O and the County — allows Cabral to spend half of her week in the field, directly reaching out to homeless individuals and families. That work continues, despite the pandemic. "With COVID-19, there definitely has been a change," Cabral explains. "But our client needs have been priority, and we've continued to be in the field for our most vulnerable populations."
On any given day, you can find her anywhere in Ventura City limits. She might be talking with shelter-less people on Main Street or offering a connection to services near the river bottom. Her days are varied, but her goal is consistent. "We're proactively going out and trying to offer resources to people and build relationships," she explains.
Even in the face of a pandemic, Cabral persists. "I still am able to go out into the field. For example, I accompanied the Ventura Land Trust to the Ventura River Bottom off Main Street and wore a mask. We've been able to continue to meet people where they are in parks, hotels, and shelters and we've been accessible even when teleworking."
Cabral's role serving on the front lines for some of Ventura's most vulnerable populations is the result of a City and County partnership. "I think it's fantastic that two government entities were able to identify an unmet need and collaborate creatively to embark on a partnership that will positively impact this very vulnerable population," Chris Russell, Homeless Services Program Manager for the County of Ventura, says. "[The Proactive Outreach Worker] allows us to get to the people, rather than waiting for the people to come to us."
Cabral is the ideal person to connect with individuals and families experiencing or at risk of homelessness. Her entire career, she's worked with nonprofits committed to serving the most vulnerable in Ventura County. "I have a passion for wanting to work with the homeless population, trying to be a support for them, an encourager and an advocate," she says. "I really feel like it's an honor to try to assist as much as I can."
Less than a year into her new role, Cabral has already seen successes. She partners with local organizations and individuals who alert her to homeless individuals who might be in need. Through communication with groups like the Downtown Ventura Partner's Park Ambassadors, Ventura Police Departments Patrol Task Force, and the Safe and Clean Manager Meredith Hart, she gets informed about where she's needed most.
Once she shows up, she says it's all about connecting personally. "Sometimes, it doesn't get to the resource conversation until you've been getting to know someone for a month," she explains. "A really big part of my job is gaining trust and building relationships."
Fortunately, Cabral is a dedicated member of that community. Less than a year into her new role as Proactive Outreach Worker, undaunted by the pandemic, she's already made notable, measurable strides toward getting homeless individuals connected to the right services to improve their lives