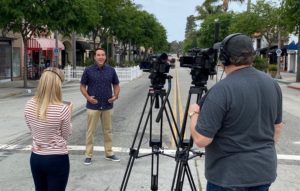 The following is a letter from Patrick Davidson, Executive Director of CAPS Media.
Friends of CAPS Media,
On Monday evening, June 29th the Ventura City Council voted unanimously to continue funding CAPS Media for the near term and foreseeable future. In light of the devastating COVID-19 pandemic and resulting reduced city revenue, by mutual agreement the city and CAPS agreed to reduce the level of CAPS Media funding for the 2020-2021 fiscal year starting July 1. The reduction will require adjustments but given the realities we are all facing, it is reasonable and manageable.
Everyone at CAPS Media, especially our board members and staff, want to thank the Ventura City Councilmembers for recognizing the valuable and unique resources that CAPS provides our community: Mayor Matt LaVere, Deputy Mayor Sofia Rubalcava, and councilmembers Lorrie Brown, Jim Friedman, Cheryl Heitmann, Erik Nasarenko and Christy Weir, thank you for your continued support and partnership in serving Ventura. In addition I want to extend our appreciation to the Ventura City staff members who worked with us to find a viable solution that allows CAPS Media to continue to serve our community during these very challenging times and in the future.
To our friends and supporters in the community, I look forward to a time when I can express my thanks in person. But for now, please accept our deep appreciation to everyone who rallied behind CAPS during the funding debate by sending letters, emails, and making calls to city council members and city staff to express your appreciation and support for our work.
Most importantly I want to thank the CAPS Media staff – full time and part-time – for your dedicated, talented and tireless work supporting our members and the community during these very uncertain times.  In the midst of the intensifying crisis that we are all experiencing, the CAPS Staff has continued to work, day in and day out, in the CAPS studio, at City Hall, out in the community and in their homes, providing the public with vital and accurate information and other media services throughout the COVID crisis.
You may not know that on a weekly basis, CAPS crews are producing updates by City and County officials, directing the broadcasts and live-streaming of City Council and other committee meetings with remote participation by board members, committee members, city staff and the public. CAPS Crews record the live County COVID-19 updates at the County government center and then edit/format the updates with titles and subtitles in Spanish for wide distribution. In addition, CAPS crews continue to produce videos for Ventura County Fire, Public Health and other agencies.
Unfortunately, due to the COVID-19 crisis the CAPS Media Center is closed to Member/Producers and the public. However, Member/Producers can still submit programming via our online portal at capsmedia.org. for broadcast and streaming on CAPS public access television Channel 6 and on CAPS Radio KPPQ 104.1FM. KPPQ is offering online training to help set up your home studio and begin producing shows. Camera, Editing and Studio classes are postponed. Please check the website for details.
Thank you all. "It takes a village," and we are all very thankful to be part of your personal village.
Patrick Davidson
Executive Director
CAPS Media