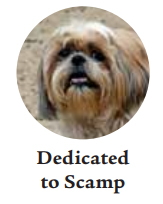 ∙As COVID-19 continues to create anxiety, the unconditional love of our furry family members provides comforting and love (and we can even hug them).
Best Friends stated "our pets are living reminders of the beauty and joy around us, even in the darkest of times. They are such an important part of our families, and we know your pets are important to your family, too."
Scamp (from doggy heaven) stated "we'd love to hear about your pet's story of the joy that they are bringing while sequestered at home (or taking a much-needed walk around the block). So tell us about how your pets have been there for you during this crisis at [email protected] (with a photo of course)."
∙During times of crisis, it's more important than ever to preserve the bonds that matter most, such as those that bind pets and their humans. As the number of people affected by COVID-19 continues to rise, RedRover is providing needed resources to ensure that people can still care for the animals they love during this crisis.
RedRover's new Emergency Boarding grant program helps animals who need temporary boarding while their owners are hospitalized due to the novel coronavirus. The grant will cover the cost of up to two (2) weeks of boarding while a pet owner is being treated. This new program was supported by a generous donation from Purina – RedRover's Purple Leash Project partner.
Nicole Forsyth, RedRover President and CEO, states, "Preserving the human-animal bond is at the heart of what we do. During these trying times we are thankful for Purina's support for our new emergency boarding grants to help pet owners hospitalized with the coronavirus. Knowing a pet is well cared for will hopefully bring some peace of mind to those undergoing COVID-19 treatment."
To become eligible, a pet owner or guardian must follow these steps:
Before submitting an application, contact local boarding facilities (kennels, veterinarians, animal shelters/humane societies, etc.) to find reasonably priced options
Ensure boarding is done through a business, not an individual.
Establish a plan for how the animal's needs can be met.
Confirm boarding facility will provide a written estimate and a final invoice once the animal leaves boarding.
Obtain permission from the pet owner if someone else submits an application.
Provide updates on the pet owner's situation if requested.
Note – RedRover covers vaccination costs that are needed for the animal to enter boarding. Any veterinary requests beyond vaccinations will be taken on a case-by-case basis.
Both the applicant and the animal must live in the United States.
Submit an online application at https://redrover.org/relief/emergency-boarding-grants/.
RedRover recognizes the fluidity of the novel coronavirus pandemic and will continue to follow expert recommendations concerning COVID-19 as it relates to pets.
Continuing in their efforts to help animals and people in crisis, RedRover has created a list of resources to support people and pets during the novel coronavirus pandemic.
Since 1987, RedRover has focused on bringing animals out of crisis and strengthening the human-animal bond through emergency sheltering, disaster relief services, financial assistance and education. For the fifth consecutive year, RedRover has earned a 4-star rating from Charity Navigator, America's largest independent charity evaluator. To learn more, visit RedRover.org

∙Keeping your pet safe during the covid-19 crisis
by Amy King
Our priority at the HSVC (Humane Society Of Ventura County)is to keep our staff, animals, and the public safe and healthy during the COVID-19 outbreak. According to the Centers for Disease Control and Prevention (CDC), the disease is spread to humans through person-to-person contact. There has been no evidence that pets can become ill from or spread COVID-19. However, there are some good general practices you can do to help keep your pet safe during this time.
Wash Your Hands
Although there is no evidence that animals, including pets, can contract and spread COVID-19, it is still good practice to wash your hands after handling animals. It is also suggested to wash your hands thoroughly after handing your pet's food, waste, or any other supplies such as toys and bedding. All animals can carry germs, so it is always a good idea to practice healthy habits around your pets.
Stock Up on Pet Supplies
According to the ASPCA, it is a good idea to prepare an emergency kit with essentials your pet may need during a crisis situation. Such a kit should include any medications your animal is taking and at least two weeks worth of food. The HSVC is offering pet food to anyone in need through our Pet Food Bank. Please contact the shelter by calling 805-646-6505 or email us at [email protected] for any questions about pet supplies or other pet-related needs. We are here to help!
Designate an Emergency Caregiver
In the event you are unable to care for your pet, it is good practice to have someone in place that can help with short or long term pet care. A family member, friend, or even a boarding facility may be the best option to keep your pet safe in the event you become ill. Per the CDC, it is recommended that people sick with COVID-19 limit contact with animals until more information is known about the virus.
Create a Pet Dossier
Make caring for your pet easier for your emergency caregiver by creating a collection of your pet's information. You can include things like eating habits, favorite toys, medical conditions, and veterinarian contact information.
Following these simple practices will help ensure the health and safety of your pet. The HSVC will remain staffed for emergency services Monday-Saturday from 10 am – 5 pm until further notice and will continue to help the public in any way that we can. We encourage the community to adhere to the "Stay Well at Home" order and practice social distancing until we can open our doors again.