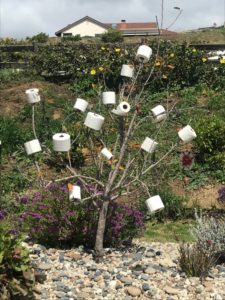 by Mira Reverente
For some, the sense of belonging and community was a draw.
Guinevere Heath just moved to Ojai from Ventura, and was looking for some furniture so she composed her first post. In a short amount of time, she received a dresser, shelves, tables and other small furnishings. "I knew I needed to give something back," she said.
Heath started baking muffins, loaves and cakes, and would drive all over the county to drop off her goods. She loves getting ingredients like flour, sugar, baking powder and the like to sustain her baking because she has zero income from her home bakery due to the pandemic.
Mary Campbell also found herself out of a job when the hair salon she was employed at closed down. Making ends meet by taking on odd jobs like DoorDash, she worried about her 67-year-old mother.
"I am in and out of the house all-day, everyday, bringing in who-knows-what-germs from my jobs," she said. So she asked the group if anyone had a spare mini-fridge, a hot plate and a coffee maker, so she could keep her compromised mom in another section of the house. In five minutes, she was astounded to receive everything she had asked for.
Calhoun is proud of this tremendous movement, of service-oriented folks just coming together to help and take care of one another. "I worry about the homebound seniors, the immuno-compromised folks and families who are trying to survive on one or zero income," she said. "I want them to ask for help and connect with someone."
For Amy Lyons, the group helps soothe the feeling of isolation. A bookkeeper whose hours have been dramatically reduced, Lyons feels at home in this virtual community of selfless strangers. She said, "There's so much negativity everywhere else, but in Ventura County, we have this."
The barter system or the exchange of goods and services without money, is nothing new. According to various research, the history of bartering can be traced back to 6000 BC, introduced by Mesopotamian tribes and adopted by Phoenicians and Babylonians. In the US, bartering became hugely popular during the Great Depression due to the scarcity of money.
Gray has vivid memories of bartering in young adulthood, apprenticing with his dad who was a handyman. "I remember him exchanging labor and materials for food, among other things," said Gray. "Back then, they used the honor system or notes, something you would probably call gift cards nowadays."
The most requested and posted items are fruits, vegetables, water, baking supplies, cleaning supplies, kids' art supplies, books, homemade masks and of course, toilet paper. Calhoun said, "I posted on there that members shouldn't always expect an even trade. It won't always work that way."
Post-pandemic, Calhoun sees the group and its mission of service continuing on. She said, "Bartering is a lost art. I want the group to thrive and branch out. I want to see people be of service not only during desperate times, but also when times are good. "
For more info or to join: www.facebook.com/groups, search for Ventura Free Barter & Trade