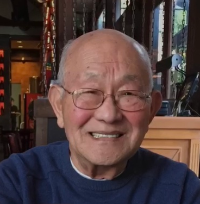 Ben Bunji Namba, founder and benefactor of the NAMBA Performing Arts Space, passed away on February 26, 2020 at his Ventura residence with his wife Julia Campbell Namba by his side.
Born April 6, 1930 in Manchuria, China, Ben lived and was educated in Japan, earning his university degree there. Ben later moved to the United States in 1960. Based in Los Angeles, Ben was the owner and operator of BHN Inc. for over 40 years, specializing in importing spices from abroad for the Tampico Spice Company.
In 1994 Ben moved from La Canada Flintridge to Ventura. Ben enjoyed gardening and loved the outdoors, most especially the ocean.
Being a lover of art, music and dance Ben was involved with the Ventura Music Festival for many years. He was the primary benefactor of the NAMBA Performing Arts Space in downtown Ventura, a non-profit founded in 2014 dedicated to fostering dance, music, theater, film, performances, and community arts education. The Arts Space stands as Ben's legacy and a gift for the greater Ventura community.
Ben Namba is survived by his wife Julia Campbell Namba, his step-children Sanford Campbell, Laura Campbell, and Leslie Atia; his step-grandchildren Geffen Camp, Leah Atia, and Gian Atia. He was preceded in death by his first wife the late Helen Head Namba.
Memorial donations to honor Ben may be made in his name to the Alzheimer's Association of Ventura County, the NAMBA Performing Arts Space or the Ventura Music Festival.