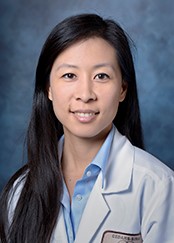 by Patty Jenkins
The Ventura Parkinson's Disease Support Group is pleased to invite our members, supportive friends and associates along with the public to attend our meeting on Friday March 20th from 12:30PM to 2:30PM at Ventura City Hall's Community Meeting Room #202 to join us in welcoming Echo Tan MD, a Movement Disorder Specialist in the Department of Neurology at Cedars-Sinai Medical Center.
A movement disorder specialist is a neurologist with additional training in Parkinson's Disease (PD) and other movement disorders. This type of doctor typically has extensive knowledge of Parkinson's therapies and ongoing research. A movement disorder specialist focuses primarily on PD and movement disorders, such as dystonia and tremors. (reference Michael J Fox Foundation)
Dr. Tan specializes in diagnosing and treating movement disorders, including Parkinson's disease, tremor, dystonia, chorea, and tics. She is experienced in programming deep brain stimulation, and injecting botulinum toxin for dystonia and spasticity. Dr. Tan has lectured nationally on various movement disorder topics including new wearable technologies for diagnosis and management of Parkinson's disease as well as deep brain stimulation, spasticity, dystonia and its treatments. She has co-authored articles with Dr. Michele Tagliati and presented research at both national and international conferences such as the Movement Disorders Society annual meeting.
Dr. Tan earned her medical degree from New York Medical College and completed her internship in internal medicine at the University of California, Irvine. She went on to complete a residency in clinical neurology at the University of Southern California and a clinical movement disorder fellowship at Cedars-Sinai Medical Center.
Join us with Dr. Tan for an informative and educational presentation about Parkinson's Disease and Deep Brain Stimulation sponsored by Boston Scientific. We will have the opportunity to ask Dr. Tan questions about Parkinson's Disease, the many choices we have for treatments including medications and other options available to us to help cope with the challenges of Parkinson's Disease and improve the quality of our lives.
The Ventura Parkinson's Disease Support Group welcomes the public along with those who find themselves navigating the challenges of Parkinson's Disease and other neurological conditions. Hand-out resources available at every meeting. We are an independent and volunteer-organized group not affiliated with any other organization or group. For more information and detailed directions to our meetings, please call Patty at 805-766-6070.