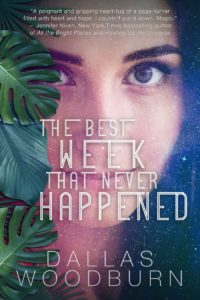 What was the best week of your life?
Was it an amazing trip you took? The week you met your partner or best friend? When your kids or grandchildren were born? When you graduated college… or retired… or accomplished a big milestone?
Dallas Woodburn started The Best Week Project because she believes that reflecting on this idea of a "best week" gives valuable perspective on what is truly most important. She is asking people of all ages from around the world to answer the question: What was the best week of your life? Responses are showcased online—in addition to written responses, artwork and photography are welcome, too. https://thebestweekproject.tumblr.com/
Woodburn will be taking submissions in person for The Best Week Project on Saturday, May 23, from 1-3pm at the Barnes & Noble bookstore in Ventura, where she will also be signing copies of her debut novel, The Best Week That Never Happened, published as a print book and e-book by national publishing house Month9Books and an audiobook by Blackstone Audio.
The Best Week That Never Happened is a love story set in Hawaii, with a dash of mystery and magic, about living life to the fullest. Kirkus Reviews praised the book as "a dazzling, emotional story of love, loss, and living in the moment" and New York Times best-selling author Jennifer Niven called it "a poignant and gripping heart-tug of a page-turner filled with heart and hope."
Woodburn grew up in Ventura, graduated from Ventura High School, and has been part of the Ventura County literary community for more than two decades. She founded Write On! For Literacy (www.writeonbooks.org) as an eighth grader at Cabrillo Middle School to empower youth through reading and writing. Her Holiday Book Drives have collected and donated more than 14,000 books to underprivileged children throughout Ventura County, and she teaches fun Write On! Writing Camps that have nurtured hundreds of young creative writers since 2008. She is also the editor and publisher of the book series Dancing With The Pen: a collection of today's best youth writing that features stories, essays and poetry written by dozens of children and teenagers across Ventura County and around the world.
In 2018, Yellow Flag Press published Woodburn's short story collection Woman, Running Late, in a Dress, which was honored with the Cypress & Pine Short Fiction Award and was a national finalist for the Indie Star Book Award, the Eric Hoffer Book Award, and the Flannery O'Connor Award for Short Fiction. A former John Steinbeck Fellow in Creative Writing and a current San Francisco Writers Grotto Fellow, Woodburn's fiction has been honored with the international Glass Woman Prize, second place in the American Fiction Prize, and four Pushcart Prize nominations. She is also the host of the popular book-lovers podcast Overflowing Bookshelves (www.anchor.fm/dallas-woodburn) where she interviews authors about the creative process.
When asked about her own best week, Woodburn says with a smile, "I have a feeling the release of my debut novel may be my newest Best Week That Has Ever Happened."