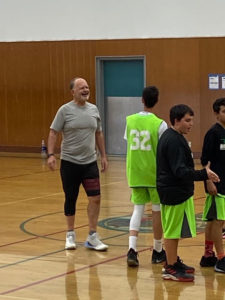 by Tom Marshall (originally published on parentdugout.com)
The day to day heroes in our society are volunteers who make things happen. They step up and coach our children in youth sports. John Cardoza is a volunteer superhero.
I met John Cardoza in late 2019. My son attends Anacapa Middle School and was excited to finish his middle school basketball career playing alongside his friends. The team and the school had a big problem, no coach. One of the players on the team had played on a Cardoza-coached VYBA team. That player's mom reached out to John about the vacancy and he accepted the volunteer position late in the process. There wasn't much time to prepare.
My son was hesitant about his new coach at first. After a couple of practices he said, "Our coach is good, he knows what he's doing." Not exactly a rave review but if you live with a 13-year-old boy you know that is about 8 more words than they usually utter as they arrive home. The Anacapa team played hard for Coach Cardoza and had fun all season.
Coach Cardoza guided the Anacapa Boys basketball team to a winning record and into the playoffs in his first year at the middle school level. The team was almost always outmanned and wasn't the most athletic team most games but their effort and will to win was never in question. They were well coached and played hard.
33 years is a career. 33 years of volunteering while practicing law and raising two boys is a rich and full life. John Cardoza has been involved with the Ventura Youth Basketball Association for over 30 years. Today his volunteered time with VYBA is spent on the advisory board but he coached for the bulk of the last 3 decades. John's youth basketball coaching career began during a normal workday. "A co-worker's son's VYBA team didn't have a coach. She was literally crying about it so 3 of us in the office volunteered to coach the team. That was 33 years ago." John is married with two grown sons. His wife, Allison, has always been supportive of his involvement with coaching. "She keeps me grounded when I need it."
John excels at teaching the game without yelling or molding robotic players. His players are disciplined yet are trusted with a healthy level of in-game creativity and freedom. I witnessed a team who enjoyed playing with each other and performed at a high level. The team liked and respected their coach and wanted to win as much for him as themselves.
John Cardoza's will to win and the desire to improve as a coach and mentor are still present after over 30 years of coaching. Volunteering takes on many shapes. Coaching youths for 33 years in our town has set a positive example for multiple generations to follow and has allowed parents, grandparents, and children to focus on enjoying each other and the game of basketball. His VYBA roots and ideals run deep. That's where this 33-year run began but it really doesn't matter where or what age he is coaching. John Cardoza is a volunteer hero and continues to be a solid example for our children to follow.