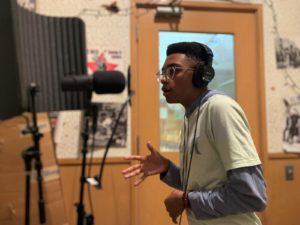 Students at Buena High School have been learning the ins and outs of the music recording industry with their Not-So-Silent Night, Volume 4 project. Utilizing their on-campus recording studio, the Buena High School Choir has selected various secular, holiday, and winter-themed songs to record and release for digital download, available across the world. This past year, their previous albums (Volumes 1-3) have been heard in 42 different countries, from the Netherlands to Qatar.
"It amazes me that our songs get heard so far away," says junior Paige Goldman.
The fantastic thing is this happening at a time in the music industry when artists continue to struggle to make a living. Due to the increased popularity of streaming music, and the minimal payout artists receive per stream, which can be less than one-tenth of a penny per stream, depending on the platform. The best way you can support your favorite artists is by actually buying and downloading their music, rather than merely streaming it for "free." When their patrons support artists, they can continue making the art and music that their audience loves.
Choir director, Kevin Downey, states, "I am so proud that our students are getting this opportunity to release their music and learn about the recording industry when it is almost impossible to make a living beyond minimum wage as a musician, even if you get signed with a record label and experience some minor success."
According to Tim Frantz, Buena's Audio Engineer from Mountain Dog Musicworks "This album is excellent. This is college-level stuff."
Do not miss a great opportunity to support the arts in our local public schools, and fill your holidays with joy by downloading the Not-So-Silent Night, Volume 4 album. Just search "The Buena High School Choir" on iTunes, Amazon, or Google Play Store. If you prefer live music, though, you can also watch the students perform live at their benefit concert on December 19, in the Buena High School Library Media Center from 6-7:30 pm, located at 5670 Telegraph Road.
For more information, contact Buena's choir director Kevin Downey at kevin.downey@venturausd.org, follow their Facebook, Instagram, and Twitter accounts @buenahschoir, or visit their website at www.bitly.com/buenahschoir.